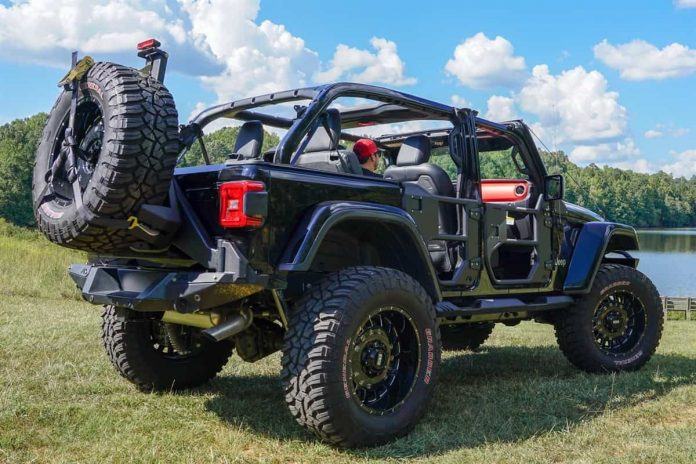 Most Jeeps have the spare tire hanging off the back. It is a convenient location if you ever need to use it, but you need to protect it before that time.
You do not want your spare taking on damage from the elements. You protect the rest of your vehicle with truck bra covers, so it only makes sense you would find a good cover to use over your spare.
3 Reasons Why You Should Invest in Tire Covers
#1. Protect the Spare From the Weather and UV Rays
Spare tires are made out of rubber, and that material degrades substantially when exposed to harsh weather conditions and UV rays. As a result, it will not take long for the spare to develop cracks in the sidewall.
The rubber will weaken, and overall, the tire becomes less structurally sound. You may need to end up replacing the spare before you even get a chance to use it, so you end up spending more than if you had just gotten a cover in the first place.
The same way durable floor liners protect your vehicle's interior from debris, spare tire covers protect the item from premature damage. You do not want to end up on the side of the road with a flat tire only to discover your spare is also no good.
With a tire cover, you gain the peace of mind you are protected if anything happens on the road.
#2. Prevent Anyone From Stealing Your Spare
Spare tires can be expensive. Therefore, it would make sense that unscrupulous characters would try to steal one if given a chance, whether you go off-roading or mostly drive your vehicle to work and back. You never know when someone may try to steal your spare from you.
In this instance, a tire cover serves as a form of security. It is easy enough to unbolt and remove a spare tire fairly quickly from the back of a Jeep. However, when there is a cover over it, it suddenly becomes a lot harder.
In most cases, seeing a cover is enough to deter potential thieves. The best cotton car seat covers may protect from the elements, but only a tire cover stops someone from stealing something you own.
#3. Create That Perfect Aesthetic
There are plenty of practical benefits you gain out of tire covers. However, it would be best if you did not ignore the aesthetic advantages, too. There are numerous tire covers you will find online, and many of them come in different colours.
Whether you have a white, black or grey vehicle, you will find a tire cover that perfectly matches the rest of your car. It will blend in seamlessly and not be as much of an eyesore as if you just left the tire out in plain sight.
Tire covers may not get as much attention as customizable car covers, but they are just as important. You do not want to neglect them, and if you drive around with a spare tire on the back, you need some coverage.
Find the perfect cover for your spare online so that you can drive around with peace of mind.
For More Information and Updates about, "Tire Covers" and Automobile Industry, Keep Visiting CRECSO NEWS Magazine. Follow us on Facebook, Instagram, and Subscribe for Daily Updates To Your Mail Box.