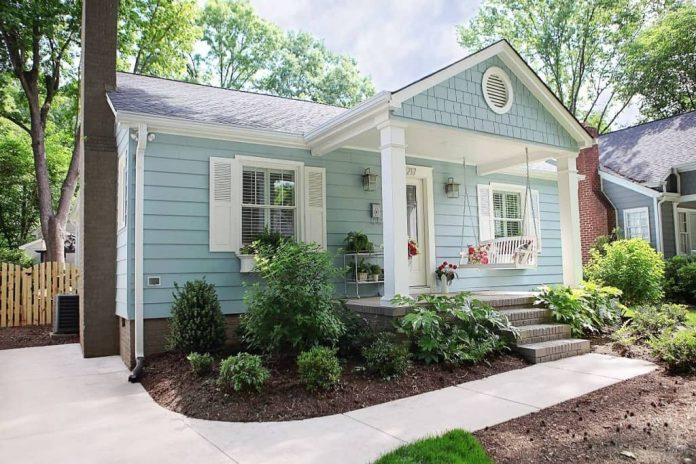 The bungalow cottage-style of house originated in India and became popular in North America in the 20th century. It's a simple and cozy style of home that is well-suited to warmer climates and that attracts homebuyers of all kinds. But, what exactly is a bungalow, and what are the characteristics that make it unique?
1. It's a low house
Bungalows are typically just one to one-and-a-half stories, with all of the primary living space on the first floor. The overall floor plan is open, with rooms that connect directly with other instead of hallways. They are typically small to medium in square footage, making them an ideal option for couples, small families, and single people.
2. It has a lot of windows
If you like a lot of natural light in your home, it's worth exploring bungalow options in your area. These homes typically have a lot of double-hung windows, with Craftsman-style bungalows featuring bay windows or casement windows.
3. It has a low-pitched roof
The roof is a major defining feature of a bungalow-style home. These homes often have low-pitched roofs that are gabled or hipped, as well as deep eaves and/or dormers. According to Wentworth Design, one of the most distinctive features of the roof, however, is the decorative and functional triangular knee brace that is projected from the face of the front gable of the roof.
4. It has an inviting entrance
The front porch is a key characteristic of a bungalow. According to Wentworth Design, these styles often feature porches with a unique supporting-post design, short square upper posts resting on massive piers, or solid porch railings. The porches are typically constructed out of a variety of materials, including stone, brick, stucco, or shingle. The porch is typically not a ground level, but instead is raised and requires steps to ascend.
5. It has many variations
There are a lot of bungalows on the real estate market and no two are the same. In fact, this style of home has been updated and adapted a lot since it first became a popular style. According to ThoughtCo, some of these variations include California, Arts & Crafts or Craftsman, Mission, Tudor, Prairie, Pueblo, Chicago, Cape Cod, and Modern.
Are you interested in exploring a bungalow as your next home? There are many bungalows for sale in Calgary that may just be the dream space you and your family have been looking for.