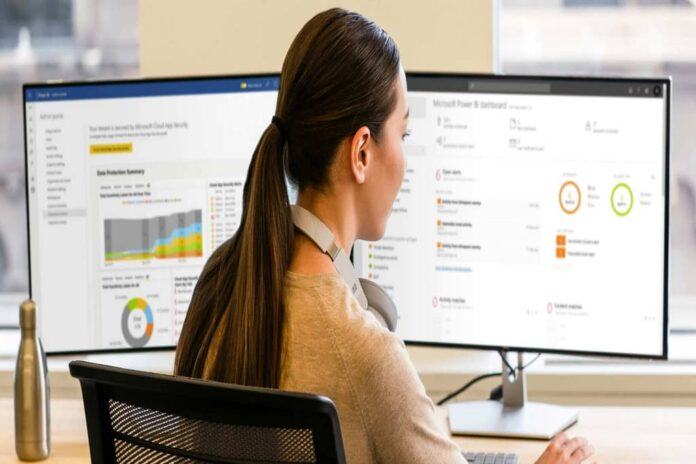 The notion of Power BI dates back to the early 1960s. Consequently, it is no wonder since hundreds of very well BI solutions are currently available to assist enterprises in harnessing data for business analytics.
The two most prevalent BI solutions are Power BI and Tableau. The significant advantage of current BI tools is that they provide self-service analytics, quicker speed to insight, and a simple user experience.
Instead of the typical technique of submitting requests to a centralized information team, current BI solutions enable workers to process information rapidly and solve business problems by themselves.
Learn about the capabilities of Power BI for creating visually compelling data visualizations and storytelling that you can use to support scaled data-driven choices in your business.
5 Ways To Derive Insights Based With Power BI
How Power BI Solutions are tailored to your specific needs
#1. Data Science and Analysis
They assist data analysts in delving deeper into their information. In this function, we built up sophisticated Power BI capabilities such as map visualizations using Bing Maps. We unlocked the platform's predictive analytics potential via R scripts, which is unique to this position.
#2. Users in the Business World
They work with you to develop valuable visualizations that will aid you in making better-educated choices and identifying fluctuations in your company performance in real-time.
#3. Professionals
They assist you in keeping an eye on key performance indicators (KPIs) and other vital company characteristics via the use of comprehensive, all-encompassing reports. When you use them, you will get high-level information in only a few short seconds.
6 Major Benefit of Power BI
A new cloud-based Business Intelligence tool supplied by Microsoft, Power BI, is drawn on the company's extensive expertise with relational databases such as Access, SQL server and other similar systems.
In short, it is a business intelligence platform that enables organizations to clean and entirely turn their data into usable information. It does in-depth data analysis and disseminates insightful information.
The following are the top arguments why Power BI is the most significant business intelligence platform available on the market today.
#1. Convenience in Use
Power BI features a user interface that is straightforward and straightforward to use. Power BI does not need any programming knowledge on the user's part.
It features built-in intelligence that assists you in selecting characteristics for your reports by proposing the most appropriate reporting element for your situation.
#2. It is simple to learn
who developed power BI on the Excel platform, and it uses a similar approach to design a report as does Excel.
Because Microsoft Excel is a well-established and frequently used software package, learning Power BI is simple.
#3. Collaboration is a breeze.
Power BI has features that make it simple to collaborate.
App work-spaces allow users to collaborate with coworkers to generate dynamic reports and dashboards that they can share with others.
The user can collect reports and dashboards into applications, which can then share with a broader audience.
Power BI makes it simple to share dashboards or insights with a small group of people, even using the Power BI Mobile App.
#4. It is cost-effective
Power BI Desktop is a free tool that allows users to create reports and dashboards that are simple and complicated.
Power BI Pro licences are within reach of most people's financial means.
Power BI offers a premium version for those who like to reach a bigger audience, which enables you to personalize costs depending on the audience's use.
#5. Integrating business intelligence 
Power BI can be integrated with Microsoft's virtual assistant Cortana, allowing you immediate access to data reports and visualizations.
With Cortana connectivity, you can also audibly ask a question in natural speech and get rich, data-driven responses that are pulled directly from your company's data warehouses and databases.
#6. Create bespoke visuals that are clever
The custom visuals SDK will provide you with the ability to create a vast library of completely customized, open-source, customer-centric visualizations using the Visual Studio Code.
Power BI is a highly adaptable solution that does not have a one-size-fits-all approach.
As a result, you have the option of integrating Power BI with your current graphics or creating unique visualizations from scratch.
Conclusion
Users at all levels of a company may benefit from Power BI commercial analytics tools, which allow them to analyze data and share insights.
Power BI dashboards give a 360-degree picture of your most critical criteria in one location that is updated in real-time and accessible from any of your devices.
Learn something new everyday Power BI enables you to delve deeply into your data while being creative and effective with the solutions you create.
Power BI makes it simple to leverage sophisticated analytics to effectively articulate your message and manage business difficulties.
It comes with much more than Twenty built-in visualizations and a gallery of colourful custom visualizations to choose from.
For More Latest Software Updates and Information about Power BI, Visit CRECSO NEWS Magazine.