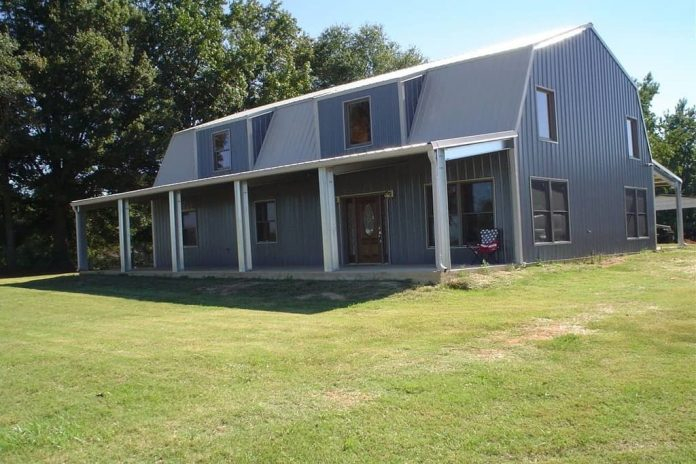 Traditionally Australian homes have been wood-framed or brick-built. These methods both date back for many years and can result in some beautiful houses. However, there is little doubt that the environmental changes being experienced across the globe are affecting houses. As such, modern methods are being applied, some with great levels of success.
The metal home building kit is one of these.
Metal Home Building Kits – The Basics
A metal home building kit is exactly what it says, a house in kit form that you can make from metal. It's worth noting that metal is not a new building material, it has been used in industry for many years. Today, the strength of metal is allowing homeowners to build earthquake-proof houses.
It's also worth noting that metal home kits can now arrive in a variety of finishes, allowing you to create the look that you want, whether that's plain metal, colored, or even a wood look.
Metal is extremely flexible. Once you have good quality structural beams in place you can build around them. The metal is fabricated off-site to ensure it all reaches the same quality standard. It can be made in virtually any shape or style and is then delivered to your site.
On-site all you need to do is understand the plans and bolt the house together. It's a little like a giant Meccano set!
Of course, the foundations still need to be created before the metal house kit is delivered.
Thanks to the ability to make almost any shape in metal, you'll find that you can spend hours designing your perfect home. Most metal fabricators will have a program you can use to design your home. This will confirm it's structurally possible and allow them to create the panels and beams, ready for delivery.
The Benefits
There are several benefits to using a metal home building kit:
Metal is extremely strong. Providing the kit has been designed and erected properly it should withstand the force of a hurricane. It is also good at standing up to bush fires, although it can't be guaranteed to be fireproof against such forces of nature.
Using metal means that your home is likely to still be standing after a natural disaster.
You need to create level concrete foundations before you can start erecting your home. But, once the foundations are in place the metal house kit can be delivered and will be built very quickly. You'll need far less manpower than a traditional build, a crane, and the ability to follow the kit instructions. In many cases, the house can be erected in a couple of days!
Metal is treated to ensure it withstands the elements. This means it will last for years. Unless the house is damaged in some way you won't even need to do maintenance, other than pressure washing it once a year.
Of course, if the metal is damaged for any reason you'll want to repair it as quickly as possible before it starts to rust.