In the digital age, healthcare is going through a major transformation. Electronic Health Records have transformed the way healthcare providers handle patient data. The implementation and optimization of an EHR can be very complex. EHR Consulting Services can help.
Let's know how EHR Consulting Services can be used to help the Healthcare Sector drive growth. EHR Consulting Services can help you achieve business growth by providing comprehensive training.
Equip staff to maximize the potential of the EHR, improving productivity and patient outcomes. Electronic health records (EHRs) are widely used and suitable for most healthcare systems.
No matter the platform or module you choose, you'll need to hire talented and experienced consultants for your project to succeed. This will likely be the biggest expenditure for an organization, but the financial, clinical, and operational benefits are evident in the end.
Meaningful use is the key to maximizing benefits from electronic medical records and EHR consultation. By integrating and implementing EHRs, you can improve the outcomes of chronic patients and increase revenue.
EHR consulting allows for comprehensive and coordinated care to be provided to patients while providing the support necessary for a future based on value.
EHR Consulting Services Benefits
EHR Consulting Services will help you to ensure compliance, data security, and business growth. Using our experts, we conduct security audits and implement robust measures. We also guide you to regulatory standards and help foster patient trust.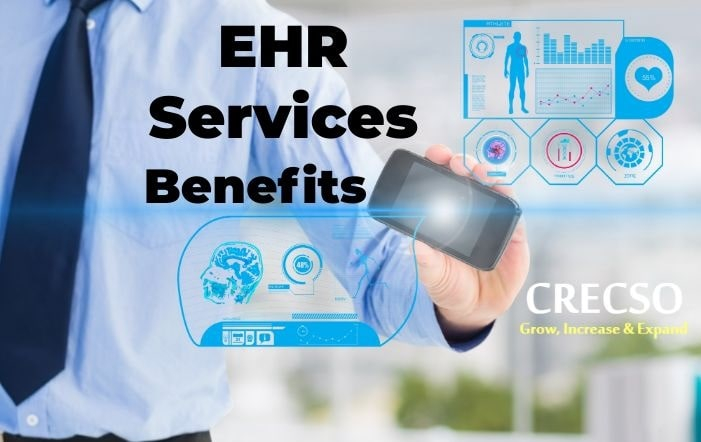 Also Read: AI is Leading To Groundbreaking Innovations in The World of EHRs
#1. Patient portals
Patients can access their medical data, request real-time lab results, make appointments, or pay for services. Connecting and communicating patient-centric data is easy.
#2. Patient records management
From entry-level tracking through to imaging, manage integrated text and images. The software is flexible and easy to use. It can be customized according to your requirements.
#3. Billing
EHR Consulting can help you build an integrated system that uses CPT codes to track your records and maximize reimbursements. Billing that's accurate and easy to manage can be simplified.
#4. E-prescriptions
E-prescriptions are intuitive and reliable, allowing patients and doctors to access them in times of crisis easily. This is a great way to increase accuracy and transmit or reorder prescriptions.
#5. Scheduling visits
Improve your efficiency by streamlining the patient scheduling process. Staff can better manage their time with multiple facilities and appointments.
#6. Clinical decisions
This comprehensive EHR Integration can meet the core measurement of meaningful use. Clinical Decision Support (CDS), an application that analyzes data, and helps patients, medical staff, and professionals organize their workflow, is available.
#7. Patient outcomes can be improved
EHR Consulting improves diagnostics and allows for more reliable access to patients. Avoid errors, and adapt the appropriate care to support patient outcomes.
Related: Benefits of Emergency Room EMR Software
EHR Consulting Services For Business Growth
EHR Consulting Services can help you achieve seamless growth in your business. Using our consultants, you can streamline processes, automate tasks and improve operations. This allows you to concentrate on your strategic initiatives and expand services.
#1. Seamless Implementation of EHR
The implementation of an EHR is crucial to the success of healthcare organizations. It requires careful planning, and it must be executed correctly. EHR Consulting Services offers guidance and expertise throughout the entire implementation process.
Healthcare consultants work with providers to determine their needs, choose the best EHR, and create a custom implementation strategy. It ensures that the transition to digital records is seamless, with minimal disruptions.
#2. Workflow Optimization
EHR Consulting Services can optimize the workflow in healthcare organizations. Consultants identify existing bottlenecks and make strategic recommendations to improve operations.
Healthcare providers can improve their productivity and save time by automating tasks and implementing more efficient workflows. Staff can then focus on improving patient outcomes and satisfaction by implementing efficient workflows.
#3. Customization and integration
Each healthcare organization is different when it comes time to manage patient data. EHR consulting helps businesses to customize their EHR systems according to their requirements.
Consultants collaborate closely with clients to better understand workflows, regulatory needs, and reporting requirements. The EHR is then configured to ensure seamless hardware and software infrastructure integration. Customization improves the accuracy of data, accessibility, and efficiency.
Read: Patient Engagement Technology: 6 Steps To Achieve Success
#4. Train and Support
The transition to an EHR requires ongoing training and support. EHR Consulting Services provides healthcare professionals with comprehensive training to use the system. The consultants offer webinars and manuals for users to maximize the adoption rate.
They also provide ongoing support to help businesses maximize their EHR investments. EHR Consulting Services enable companies to maximize the potential of EHR systems by providing staff with the necessary knowledge and skills.
#5. Compliance and Security
In the healthcare industry, compliance with regulations and data security is essential. EHR Consulting Services helps businesses adhere to HIPAA standards (Health Insurance Portability and Accountability Act).
The consultants conduct thorough security audits to identify weaknesses and implement strong security measures to protect patient data. Also, they guide backups, disaster recovery, and breach prevention.
EHR Consulting Services improve data security and ensure compliance, which instills trust among patients and helps businesses build a good reputation.
Conclusion
EHR Consulting Services are essential to help healthcare organizations achieve growth. Consultants offer services to maximize the advantages of electronic records, including workflow optimization, customization, training, and compliance.
Partnering with EHR consultants can help healthcare providers streamline their operations, improve the care of patients, and better position themselves to succeed in a digitally-driven healthcare environment.
EHR Consulting Services is a smart strategic move to propel your business forward. It also contributes to its long-term sustainability and growth.