A quick scroll through Facebook or Instagram easily shows that COVID-19 has and still is changing how people dress. The 'new normal' doesn't only include masks and hand sanitizer; now, it's becoming clear that the pandemic is changing the way people look at fashion.
2020 was mostly spent staying at home instead of going to work, attending events, and holding special occasions, among others.
Gone were the days of dressy outfits and business attires, as almost everyone turned to cozier and comfier fashion pieces that could be worn at home and even a quick trip to the grocery store.
When focused on clothing, essential workers, especially those in the healthcare sector, differ greatly. Now more than ever, those in healthcare are required to wear protective clothing that can safeguard them against bacteria and viruses.
One example is nurses and doctors who are required to wear scrub sets, sanitary clothing that's designed to promote a sterile and clean environment.
6 Best Ways To Dress During The Pandemic
Scrubs used to be gowns with simple colors and patterns, but since the pandemic emerged, there has been a wide demand for bright fabrics and matching scrub sets for both males and females.
For male healthcare workers, keswi mens scrubs are usually worn, and they come in a variety of colors, fabric types, and prices to choose from.
The pandemic has undoubtedly transformed how people shop for clothes and how they decide to wear them.
For some who already have their sense of fashion all figured out, it's a no-brainer to pick something wearable during the pandemic while also keeping it in style.
However, if you're not a fashion guru and wondering how to dress during the pandemic, these tips can surely help: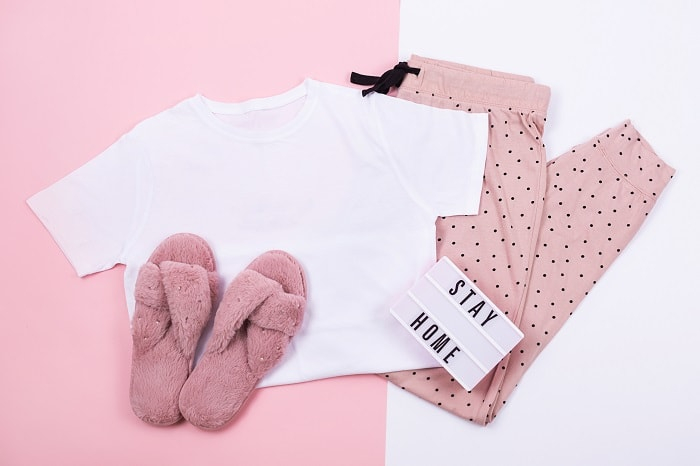 #1. Go Comfy
It's undeniable pajamas and lounge wear have taken over since the pandemic started. With mandated quarantines being enforced in almost every country around the world, people have embraced the idea of cozying up in their comfiest pajamas while watching Netflix.
If you work from home, lounge wear and comfy house dresses are your best friends. Aside from being lightweight and comfortable, house dresses and lounge wear can also be transformed into your grocery or mall outfit.
Pajamas are not just for sleeping these days. Since you no longer have to get up from bed and change into your business outfit, wearing pajamas all day long is acceptable. Plus, no one's going to judge you because you won't be going outside, anyway.
#2. 'Meeting' Tops
If you work from home and need to attend a virtual get-together, a 'meeting' top will do the trick. The idea behind it is simple: you put on a dressy top and your choice of bottom is entirely up to you.
Since virtual meetings most likely capture just your upper body on video, a dressy top is enough for you to look formal and ready for a business meeting.
There are many options to achieve a professional, finished look from a puff sleeve button-up blouse to a long-sleeve polo.
Depending on what type of work you do and the people you meet with virtually, how you look on camera can help create a professional environment.
Meeting tops aren't just for the online workspace. Dressy and formal tops can also be for video chatting with friends and relatives. It'll surprise you how dressing up can instantly lift your spirits.
If you've been feeling low and exhausted because of stress, dressing up and looking good is another way to boost your confidence.
#3. Activewear
For some, the pandemic was a new chance to reinvent themselves and become more physically active.
With gyms closed due to COVID-19 restrictions, there's been an increase in the demand for virtual fitness classes and workout tutorials at home.
Besides keeping your body toned and healthy, being physically active is also a good diversion or a hobby if you're looking for one.
Wearing active wear could motivate you to stay on track and workout more. Not only that, you'll look fit, healthy, and stylish when you finally get the clear to head back to the gym.
#4. Sneakers And Slides
From the workplace to award shows, the lack of pointed-toed shoes and high heels is noticeable.
With the continued popularity of active wear, lounge wear, and comfy clothes during this pandemic, footwear needs to be equally as comfortable.
The most popular option in footwear nowadays are sneakers and slides. People choose to wear options can transition from walking to running comfortably, and sneakers are perfect for that.
On the other hand, slides are easy to wear and quick to put on whenever you need to step outside. They're nice for wearing inside the house as well, and they look cute on Instagram stories, too!
#5. Don't Forget The Essentials
Although you want to be fashionable, don't forget that this new normal means there are fashion pieces you should never forget to wear.
A face mask is a good example of an essential accessory that should be brought with you whenever you step outside.
Wearing a face mask or cover is still highly recommended by The Centers for Disease Control and Prevention (CDC) to prevent the spread of COVID-19.
The material of face masks has also transformed over the months. Now you can freely choose from different fabrics, colors, designs, and patterns.
It's possible to still be fashionable and trendy despite the pandemic, and face masks can help you accessorize your outfit. At the same time, you're protected from the virus.
#6. Pandemic Fashion
It would seem for the past year the dress code has been quite lax. People have been free to wear whatever they want, but of course, the choice of clothing has been dependent on other factors, such as your work, daily routine, and sense of fashion and comfort.
The pandemic has drastically transformed fashion, and it looks like the change is not going away anytime soon.
From professional to daily routines to hobbies, the tips above will ensure your looks are anything but boring or ordinary. While there are other important things to worry about, how you look and feel shouldn't be one of them.
Feel confident knowing that even during a pandemic, you're putting your best self in the right clothes.
If dressing up is your way to lift your spirit and feel better, do it. Knowing how to dress during the pandemic is a necessity. After all, no one will know how long the pandemic will last. It's better to be prepared and be fashionable while at it.
Great Ways To Relieve Stress During The Pandemic
For More Latest Fashion Updates and Information about How To Dress During The Pandemic, Visit CRECSO NEWS Magazine.