The multitude of festivities and the bright culture of India ensure that there is always a colorful festival around the corner. And if we talk about dressing up and looking your trendy best, no other festival is better than Navratri.
The nine nights of the festival are full of ritual ceremonies, garba, dandiya, and unlimited fun and excitement. Right from classy jewelry to beautiful outfits, Indian women just want to look their best during the Navratri festival.
And what better than a magnificent Chaniya Choli to perfectly blend into the cultural significance of this festival? The Chaniya Choli is one of the most popular outfits during the Navratri.
It is made up of a long skirt and a blouse which is known as choli. It is paired with an odhni or a dupatta to complete the look.
So, if you are planning to buy a Chaniya Choli for the Navratri festival, we have handpicked some of the best options for you.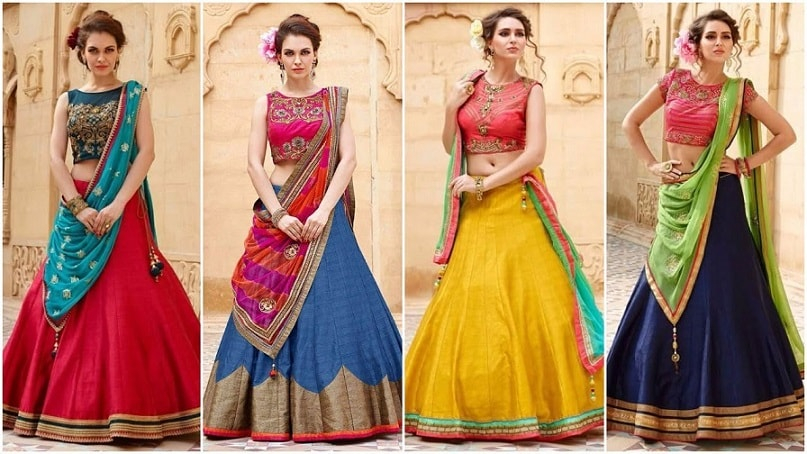 #1. Mermaid Cut Chaniya Choli
As the name suggests, the skirt in this type of Chaniya Choli has a fishtail bottom which fits till the knee before the flare takes up the flow out till the bottom. If you have a pear or hourglass shaped body, a Mermaid Cut Chaniya Choli can be the best choice for you.
Biba offers a great collection of such Chaniya Choli's online. Browse through the collection and don't forget to use Biba Coupons to get amazing discounts.
#2. Straight Cut Chaniya Choli
These Chaniya Choli's have a straight design without any space for any gathers or pleats for fullness. They have a slit on the side for easy movement.
They are available in several colors, designs, and materials and are perfect for Navratri and other traditional festivities and events. If you have a rectangular or inverted triangle body shape, these can surely be a great option for you.
Aza is a popular online store for traditional wear. They offer an extensive range of Chaniya Choli's and with the help of Aza Coupons, you can also get great deals on your purchase.
#3. Panelled or KalidarChaniya Choli
If you want to try something unique, a Panelled or KalidarChaniya Choli is definitely worth considering. The Lehenga of these Chaniya Choli's feature multiple panels that are attached for fullness.
All these different panels can be similar or different. You can find them with heavy embellishments and can be easily teamed with ethnic jewelry for the perfect Navratri look.
If you have a rectangular or inverted body shape, a Panelled Chaniya Choli is surely a must-have for the festive season.
You May Also Like To Read:
How To Pair Designer Saree Blouse
Shop CJ can be a great choice if you are searching for affordable ethnic wear. You can also find Shop CJ Coupons which will allow you to avail great discounts.
If you want to make sure that you look your best this Navratri, Chaniya Choli should definitely be a part of your wardrobe for the nine days.
Consider the options mentioned above and rest assured that you will turn heads at the festival while also enjoying maximum savings with the help of the coupons.
For More Information and Updates about Latest NEWS, Keep Visiting CRECSO NEWS Magazine. Follow us on Facebook, Instagram, and Subscribe for Daily Updates To Your Mail Box.