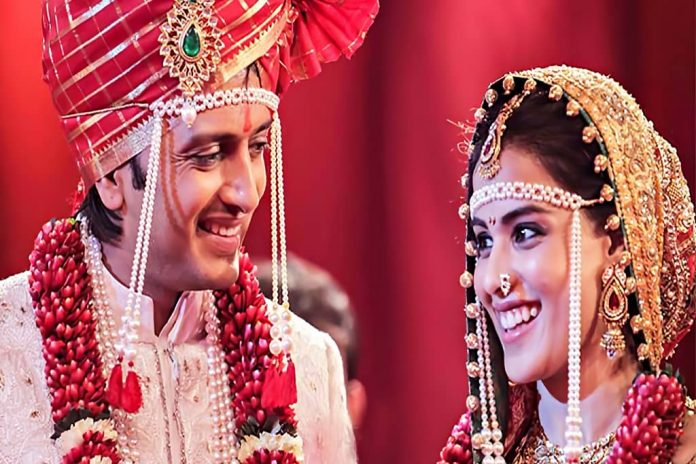 A wedding ceremony can be the happiest and most cherished memories part of the couple's life.
Getting an opportunity to proclaim your love, celebrate the beginning of your marriage, and show your appreciation towards your culture in front of family and friends can be one of the few reasons why weddings are such a big deal.
However, COVID-19 has made these celebrations come to a standstill. While some couples have decided to postpone their wedding later, others seem to have found a middle-way solution preparing for an online wedding at home.
Do you want to get married soon? Let us help you find the perfect match. You can visit any Marathi Matrimony site today and discover your future life partner.
Online Maharashtrian Wedding Planning at Home
Having a wedding without the physical presence of family and friends around you may feel like one can't make a royal affair out of their big day. Yet, the digital world has brought the world one step closer to make your special day a cherished memory in your life.
One can plan their wedding virtually, keeping these few tips in mind. Whatever may come, remember that the moment won't repeat itself, so you have to make the most of it.
When it comes to marriages, we all want a particular person who can assure us that our lives are full of happiness and peaceful moments. So let us help you find the perfect match.
Download any Marathi Matrimony app today and create your profile. Now, let's quickly get to the tips:
Things to remember for Online Maharashtrian Wedding Planning
Simplicity is the key to having a successful event.
Try to involve a technical team who can arrange and assure an experience with no glitches.
Since you're in charge, make the wedding theme as personal as possible, including decor, invitations, gift hampers, personal notes, and more.
Even though it may not be live, make sure to assign a photographer who can capture all your beautiful moments.
Don't forget to have fun.
#1. In-House Setting and Wedding Decorations
Use your home to make the most surreal wedding setup. You may choose to keep different ceremonies in different areas of the house. But do keep in mind that the setting will speak volumes and draw much attention from the guests.
It will help to set the mood for the wedding ceremony. Try to make a mood board at least a month before the wedding – this will help you source all the required items.
You can choose to order half fresh and half artificial flowers, drapes in stunning colors, fabrics with sequencing or shimmers, beautiful, oversized tassels, hangings like dreamcatchers, and more.
Add as many combinations of fairy lights in different shapes and colors and mix it with the fabric and hangings. Again, try to follow a select theme or pattern rather than ordering other loads of materials.
One additional tip would be to find matching/contrasting colors to the wedding attire so that it is in the same color palette.
Consider placing the mandap in the main hall, breathing enough room, having windows to air out the smoke, and inviting natural light simultaneously.
Since the pheras will take a considerable amount of time, spruce up the area surrounding the mandap without cluttering it, or else you may have trouble walking around the fire.
One way to embellish while keeping sufficient floor space is to hang floral arrangements or drapes from the ceiling. If it's a daytime wedding, then make sure to incorporate as many lighter pastel shades as millennial pinks, powder blues, mints, beige, peaches, or rosy browns.
You may add a hint of different red tints such as crimson, cherry, and ruby to add the typical Indian bride's look.
And to honour the Maharashtrian culture, spread garlands of marigolds and strings of sunflowers around the house to maintain the traditional yellow, orange, and green combinations.
Additional Tip
To be a perfect 2021 Marathi bride, go for styles that focus on simplicity and elegance. Decorate with rangolis, urlis filled with flowers, golden lanterns, hanging garden globes, planters, and candle stands.
Play with different earthen colors like greens, blues, yellows, and browns. It'll forge a physical presence of nature into the setting and look like a timeless piece of art.
#2. Send Out the Wedding Invitations & Personalized Hamper Selections
To invite your guests, you can decide between two different options. Either you may send out a hand-printed invite along with a personalized hamper to all your attendees or else stick with digital cards and e-invites.
The latter is a better alternative if you have a more significant number (more than 80) of guests attending the wedding ceremony.
You can choose a team of professionals to make the e-invites and provide guidelines like the date and time of the ceremony, Zoom meeting link, Whatsapp group details for confirmation, formal dressing code, and more.
In the former option, try to create a personalized hamper that includes small elements from your wedding.
Go for items that fit your budget and the person you can source locally; you may add sweets, flowers, candles, dark chocolates, fruits, nuts, wine, and more.
You can even add personal touches like a badge or a sticker with a dedicated hashtag for the wedding or a note to offer gratitude to each family member about their role in your journey and describe childhood memories shared with them.
Additional Tip
It's advisable to send the hamper at least a week before the wedding to prepare the guests for the ceremony mentally.
Try to keep the guest list to a minimum or distribute them into smaller groups with dedicated time slots. It will help keep the interruptions to a minimum, and you will be able to engage better.
#3. Create a Playlist for the Zoom Meeting
Since it's a wedding and not an office meeting, people need to have some serious fun, and music is an integral part. Fun is separate from the chaos which can happen if everyone starts talking and engaging amongst themselves.
To keep them silent and entertained all together, prepare the best wedding playlist. We know that music has the ultimate power to uplift the mood instantly, especially when you're at an Indian wedding.
Take as much time as possible to collect at least 100-150 songs that you can play from the ceremony's start until the end and final moments. Do keep short breaks in between so that people can express their excitement with "Oh wow!" "Yaaay!" and "Congratulations!".
#4. Do a Dress and Tech Rehearsal
Whichever room you pick for the wedding ceremony, ensure that the spot where you'll position the monitor screen has the best internet connectivity and speed. In addition, there should be a strong wifi connection available all around the house.
To confirm the same, try to do a dress rehearsal with a group of friends and make a test call to see whether all the devices are connected, audio is clear, and camera placement is correct.
If there are any glitches in connection issues, position the laptop in another location till it becomes smooth. If your parents, friends, or cousins give dance performances, try to set the events properly to run things smoothly.
Additional Tip
Assign a dedicated friend/professional to take care of the guests who are added/removed from the meeting, mute when required, and manage other tech-related issues.
For More Latest Lifestyle Updates and Information about Online Maharashtrian Wedding Planning, Visit CRECSO NEWS Magazine.