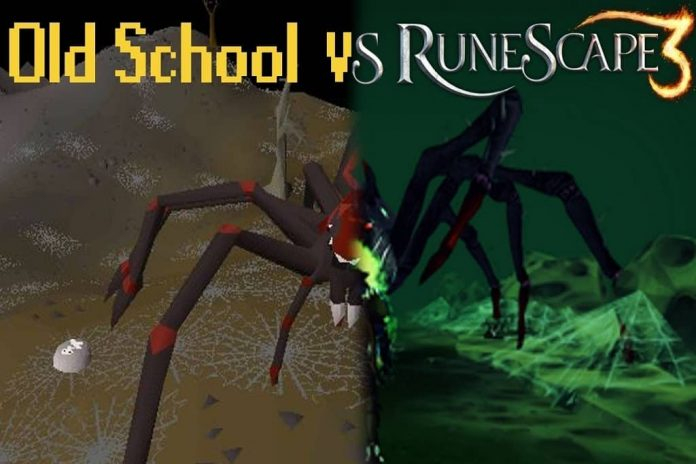 RuneScape was first released in 2001 by Jagex. Over the years, the developer has released multiple game versions, and the two most popular are RuneScape 3 and Old School RuneScape.
RuneScape 3 made its way through a big update called the Evolution of Combat. This happened in 2012, and it had a significant impact on the combat mechanics of RuneScape.
Meanwhile, Old School RuneScape was released in 2013. It was derived from a 2007 version of the game.
Why was Old School RuneScape released right after a more recent version of RuneScape, RS3, was just released a year before?
RuneScape 3 vs. Old School RuneScape
The main reason is the demand by players to bring the old game back. Most did not like the Evolution of Combat update and decided not to play RS3.
Jagex created Old School RuneScape, which takes its fanbase back to a world that veteran players are familiar with.
The release of OSRS was taken well by its players and has been one of the most played MMORPGs today.
According to a recent study, there are at least 100,000 players playing Old School RuneScape online at any given moment.
Related: R Mat Cleaner
Why Should You Play Runescape 3?
Although RuneScape 3 had garnered negative feedback when it was first released, players are now more accustomed to its gameplay. They are opting to choose to play this version instead of OSRS.
We all know that every online gamer is various in how they choose their games, but for the sake of comparison, here are some reasons why players still play RuneScape 3.
RS3 has patterned its gameplay to other MMORPGs out there. This is evident in the combat mechanics that the game has. You are now able to use your attack skills using hotkeys.
Related: Shackledcraft Ad
If you're the type of gamer that enjoys playing like this, then RuneScape 3 should be a game you should check out.
RuneScape 3 is only an updated version of the original game. If you're a player who has tried playing RuneScape before, your progress will still be in this game.
Some players do not enjoy that they need to start over again, so playing RuneScape 3 is their preferred option.
RS3 also has more skills available that are unique to the game compared to Old School Runescape.
Related: JCPShare the Joy com Overview
An excellent example is the Invention skill, which does not exist in the Old School RuneScape world.
If you're into trying out new skills that are not in OSRS and testing your skills in getting it to level 99, then RuneScape 3 is something you should try.
Why Should You Play Old School RuneScape?
Old School RuneScape is often the game previous RuneScape players prefer since it allows them to relive their childhood. This version of RuneScape can be very nostalgic for some people.
The good news is that even if who made it from an old version of the game, Jagex has continued updating the game regularly to cater to their fan base's needs and preferences.
Players are offered a handful of new quests, lands, and items each year. This ensures that players who have played the game for a while will still try their best to achieve recent accomplishments.
Related: 3 Point Slinger for Camera
OSRS is also better for interacting with fellow players in or outside the game. With many players worldwide, you'll be a part of a large community online.
There's also the fact that most content creators focus on Old School RuneScape than RS3, so you have better access to guides, tutorials, and videos about OSRS.
RuneScape 3 vs Old School RuneScape
Final Thoughts
Ultimately, it's still your decision which RuneScape version you will be playing. This is also one of the main reasons Jagex decided to launch different versions of RuneScape.
It's also evident that the economy for both games differs since OSRS gold is highly valued compared to RS3 gold. You can check the latest price for either RuneScape GP at Probemas.com.
However, each online game currency's price should only be the leading reason players switch their game preferences if their goal is to make real money from playing OSRS or RS3.
For More Latest Technology Updates and Information about RuneScape 3, RuneScape GP, Visit CRECSO NEWS Magazine.