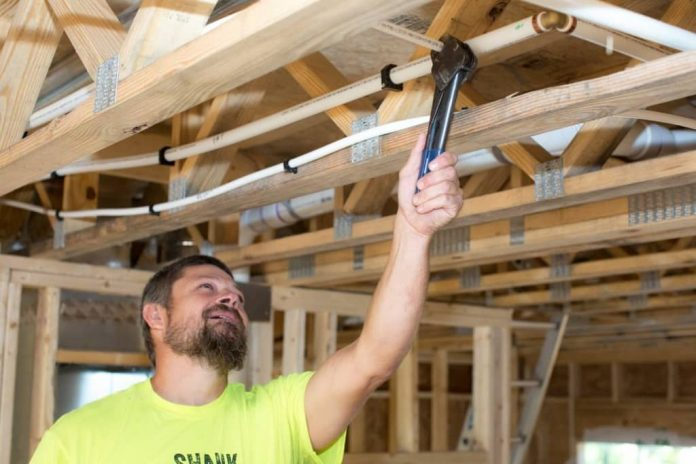 Every home needs proper water distribution. Just like with electricity, we all freak out a little when something's out of order, even it's only for an hour or two. Can you imagine a kitchen or bathroom without water for several days or more? It would quickly turn into a riot, no doubt about it.
It's necessary to have a properly functioning plumbing system with cold and hot water for all your needs. However, the used water doesn't magically go away; it needs a drainage system that should be well-maintained and clog-free. Check https://dengarden.com/home-improvement/The-Advantages-and-Disadvantages-of-Different-Residential-Plumbing-Materials to find out more.
If you're a DIY type of person, removing hair out of the gutter in the bathroom shouldn't be a problem, but more severe blockages require professional assistance. Also, in the event of a burst pipe, there's not much you can do personally. Plumbing services have the necessary equipment and know-how to resolve these issues.
Reasons for Proper Maintenance
We all know when there's a power outage straight away. How? Well, the lights go out. But when it comes to plumbing, not all things are visible to the naked eye. Professionals use CCTV video inspection to assess the damage, provided there is any, and then use whatever method is needed.
There are several reasons why you should do regular checkups. The rule of thumb is not to wait for ruptured sewers, leakages, or overflowing toilets before you call a plumber. To avoid an unpleasant situation, take a minute of your time now and then check if everything's A-OK.
Another fundamental reason is to keep your home healthy. If the pipes aren't maintained properly, mold or mildew can quickly sneak into your household and do severe damage. We always take tap water for granted, but that shouldn't be the case.
Few things are more frustrating than insufficient water pressure around the house. It's incredibly nerve-racking when you're in the shower, and the water's barely dripping from the showerhead. Instead of losing your mind, it's a far better solution to call an expert and check if the pipes are up and running.
Taking Care of the Sewers
Sewer lines are something that most people never think about – until things go out of hand. Both in residential and commercial areas, it's vital to have functional sewers for drainage. You've probably handled more minor drain clogs at least once in your life, but for more complex issues, it's best to leave it to the pros. Click here for more information.
Professional and experienced plumbing services are familiar enough with sewers to provide any replacement, repair, or perform an installation or cleaning quickly, safely, and expediently. They can quickly locate a broken line and return your system to normal, whereas you'd need days to achieve the same, probably damaging your interior along the way.
Broken sewers can be very costly; not everyone has an extra budget to afford emergency repairs. Instead, you can minimize the chances by having them cleaned regularly. Removing the buildup from inside will prolong their lifespan and provide a clean and healthy water flow.
What about Heaters?
Hot water is invaluable to any household. Washing the dishes and clothes manually, taking baths – pretty much impossible to do if the water's freezing. Just like with sewers, we usually take water heaters until there's a malfunction of some sort. That's when plumbers come to the rescue.
If you try to repair a heater by yourself and you're inexperienced in the matter, chances are you'll end up frustrated, even electrocuted, if you're not careful enough. Even if you do have the necessary tools, you'll still need a long-term solution so the problem won't happen again in the future. Professionals achieve this by checking each component individually, giving you helpful advice along the way.
Sometimes the only solution is a replacement. This could be complicated with so many models out there to choose from. Aside from installation and repair, plumbing services can guide you through the buying process and help you choose the suitable model for you. That means an affordable model that meets your expectations and needs. 
Septic Drain Fields
Faulty tanks or drain fields can be a unpleasant experience for anyone. You'll surely know it by the odor, or perhaps some lawn damage, but why not take preventive measures instead? That way, you'll keep your wastewater in order and avoid dealing with costly and stressful emergency repairs.
For a septic tank to work correctly, it has to be well-built and reliable. It has to be attached to all lines to provide a normal wastewater flow. Modern sewage systems also perform another function, and that is filtration. Sometimes the drain field cannot absorb the water and filter it, resulting in the odors and damages we mentioned.
If left untreated, it could produce an unbearable stench and turn some heads in the neighborhood, and one wants that kind of attention. Luckily, residential services perform repairs that tackle this issue as well. They give you estimates before starting any work so that you won't be unpleasantly surprised by the fees. The service should be honest and transparent from the very beginning, especially in such hazardous situations.
Final Thoughts
A flooded basement or a kitchen floor is never a pretty sight. Nor is a smelly backyard. I've illustrated the more critical points about why hiring residential plumbing services is necessary, along with a few tips on prevention and maintenance. You can always do additional research if you're curious, of course.
Taking care of pipes and drainages is hard work, which is why most people shy away from it, and rightfully so. Should you be stubborn and go the length of buying plumbing equipment? Spend countless hours researching the proper methods and techniques for fixing pipes?
The answer is: no. It's a far better idea to engage professionals to do it for you. With all the information available online, all you need to do is check out their overall reviews and see if they meet your needs. It's a strategy that saves both time and money and is guaranteed to succeed.
For More Latest Home Decoration Updates and Importance of Residential Plumbing Services, Visit CRECSO NEWS Magazine.