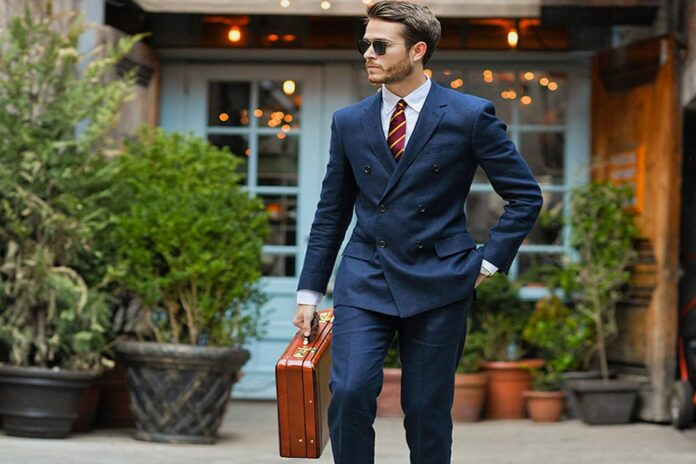 A suit usually comes in two or three pieces by default, including a coat, trousers, and an optional waistcoat.
Most of the time, they are made in plain colors, usual shades of black, blue, brown, and occasionally white. However, they can always be tailor-made to suit your preference.
Even though you opt for something plain, a range of fabrics are used, each having a different level of quality.
Read | How To Dress During The Pandemic
The price would depend on color, the fabric quality used, and the tailoring charge. Purchasing or getting one made isn't much of a hassle.
You might need to go to the right places if you want a ready-made one. Otherwise, you could get them tailored and made by an expert by giving him your precise measurements.
Looking for men's suits online is easy and convenient, as it allows you to brow through all available choices in detail at your own pace.
Read | Finding a Custom Uniform Store for Servers and Hospitality Industry
#1. The Tie
Whether you opt for a tie, a cravat, or a bow entirely depends on the occasion.
For instance, if it's your wedding, you might need to stand out as the groom, so you might consider using a cravat with subtle self-print or embossing and that of a color of your choice.
There wouldn't be any harm in trying to keep it simple and opting for a plain tie, bow ties for men or designer tie. Most men prefer the regular and may not be big fans of extravagance.
Related | How To Dress Professionally for Office
Meanwhile, some might opt for elegance and a tad bit classy with a one-tone tuxedo. This look does not include a tie or a cravat but a neat bow between the collars.
The tuxedo is believed to give a man the ultimate charm and allure.
#2. Cufflinks
Cufflinks, tie pins and the scarf are the sub-parts of a complete formal suit. Cufflinks lock the cuffs of a shirt and cover the button that fastens them.
They usually come in silver and gold, carved and shaped elegantly, and may slightly vary in size.
Tie pins are used to pin the tie onto the shirt and are usually done a couple of inches below the tie not.
They come in silver and gold and are sometimes two-toned. The designer ones, both cufflink and a tie pin, can be plated in real gold, silver, or white.
Related | 10 Ways to Dress for a Wedding
#3. The Kerchief
The kerchief is usually used for grooms or best men at weddings or similar occasions. They can come in many different colors and are folded and sewn in a certain way.
It's worn chiefly inside the left pocket of the coat in such a way that a triangular part juts out of the pocket and is made visible. Most of the time, a piece of silky textured fabric with a shiny surface is used for the scarf.
#4. Shoes & Belts
Shoes and belts are part of the formal outfit because they complete the look. Shoes are primarily black or brown, and it's up to you to choose the type with shoelaces or not.
Trends keep changing, and there would be times when laced shoes are in trend and other times when they are considered outdated.
So, you might want to stay updated with the latest to keep up and get the right look.
Belts come with the same choice of colors, and what you look at mainly would be the belt buckle.
Both shoes and belts made with authentic leather skin are available widely and are believed to be of the best quality, highly durable, and appear classy.