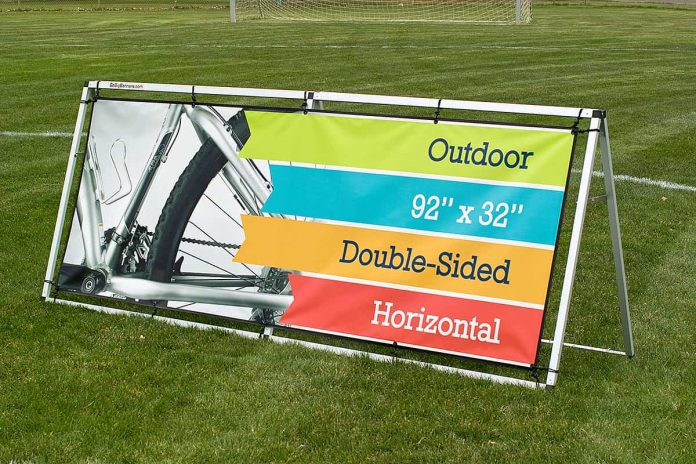 Vinyl banners are widely used as outdoor advertising by many businesses in today's busy world. It is not surprising because they make attractive, convenient, budget friendly and effective promotional materials.
They are digital prints by wide format inkjet printers that can print full colour. Heavy Vinyl Banners, also known as PVC, is the most commonly used material. Printing can be digital, vinyl lettered orscreen-printed. Find out more about vinyl banners.
Right sizing for Vinyl Banners
Size of Vinyl Banners depends on your need. With vinyl banners, size is not limited; there are small and extra-large sizes. Frames and supports come in many sizes as well. Most outdoor banners are 4 feet by 12 feet, hung by ropes and grommets.
With this size for Vinyl Banners, make sure to have lots of support so it will not sag in the middle. Indoor banners do not have to be as large.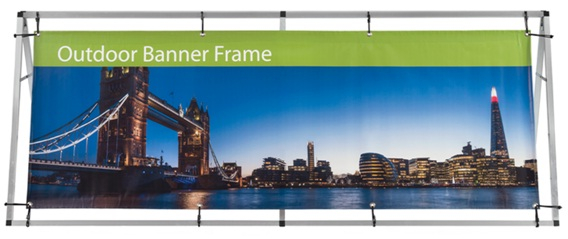 Material for Custom Vinyl Banners
Vinyl Banners comes in different thicknesses, which are measured by weight. The heavier it is, the sturdier your banner will be.
Vinyl of 10 to 13 ounces is fine for indoor use, while 15 to 18 ounces is ideal for outdoor use. The thickness still depends on your preferences and needs.
You might want to consider a heavier, thicker material for long-term use or for use in windy places. If this is the case, you need stronger support. You also have the choice to use glossy or matt banners.
The glossy finish for Vinyl Banners is ideal for hanging inside, away from natural light. Matt is great for outdoor use because glossy banners may glare in daylight.
Display option with Vinyl Banner Printing
The way to hang banners is almost limitless. There are clear, adhesive hangers for easy hanging.
There are metal rings or grommets that may come pre-installed. There are banner stands that come in various styles, permanent frames, mobile frames and many more options.
For finishing, you can choose between hems, eyelets or grommets and pole pockets. The most commonly used are hems for secure insertion of eyelets, allowing the banner to be hung.
Grommets or eyelets are small metal rings where cords or clips are attached. Pole pockets at the top or bottom for loops are typical for scaffold banners.
High Quality Cheap Vinyl Banners Design
The convenience vinyl banners bring is remarkable. You can customise the size, colours and design. Use contrasting colours, make good use of photos, and limit text. The best banners are readable, easy to understand and easy to recall. You can emphasise one main element instead of multiple elements that can be distracting.
Remember the message you want to convey, so think about how you can communicate it effectively with your banner design. If you are not good at designing, an expert printing company can help you.
Vinyl banners are durable and functional. They can be used for a variety of applications; you can see them everywhere. These multi-use banners have also become a common fixture at trade shows.
As such, many businesses have also opened up to provide banner printing. This makes it easy to come up with affordable, attractive and effective vinyl banners to promote a small business.
More Related Posts
For More Information and Updates about Vinyl Banners and Marketing with Custom Vinyl Banners, Keep Visiting CRECSO NEWS Magazine. Follow us on Facebook, Instagram, and Subscribe for Daily Updates To Your Mail Box.