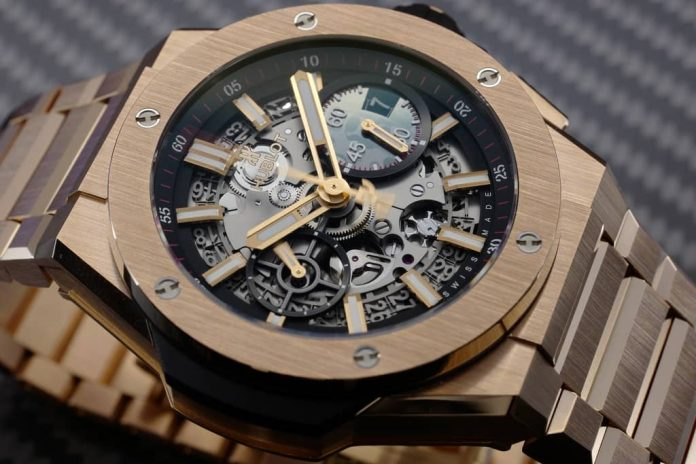 Hublot Watches, a brand founded on the principles of excellence in innovation, the fusion of arts and mechanism, and exemplary craftsmanship, has established itself as among the most in-demand luxury watches.
Watch enthusiasts equally desire it along with other prominent and older watch manufacturing brands in the industry. Its highly exceptional timepieces gave the watch manufacturing industry a new face.
As a result, a piece is highly valued and is not being sold at a low price. So what are the best watches to purchase in 2021? You might wonder what the cheapest Hublot watch is?
Learn what this brand has in store for watch lovers like you, whether you plan to buy one or are still looking around.
The Best Hublot Watches in 2021
We have gathered the top 4 Best Hublot Watches for the current year- 2021.
#1. Hublot Big Bang Integral Tourbillon – High Jewellery
Wondering what's the most precious Hublot Watch so far? Well, it is this diamond-encrusted watch – Hublot Big Bang Integral Tourbillon Hublot launched high Jewellery this year 2021.
It is not named High Jewellery for nothing. The watch features Hublot's in-house automatic tourbillon calibre presented in a case and bracelet set that hold the precious diamonds- 484 baguette – cut diamonds that give 31 carats.
At the same time, the bracelet is an 18K White Gold bracelet, a polished set with 304 baguette-cut diamonds for 20.5cts that features an 18K White Gold deployment buckle clasp.
Specifications:
43 mm diameter and 13.75 mm in height
The case is 18k White Gold, a polished set made of 102 baguette-cut diamonds for 5.4 carats.
The bezel is 18k White Gold, a polished set made of 48 baguette-cut diamonds for 4.0cts.
Water Resistance: 3 ATM
Dial/Indications/Functions- 18k White Gold Dial, polished set with 30 baguette-cut diamonds for 1.0 cents.
Movement- Hublot caliber HUB6035 Automatic tourbillon
Power reserve of minimum 72 hours
It costs USD 685,000. Yes! It's definitely worth a fortune!
#2. Hublot Big Bang Integral Tourbillon Full Sapphire (Limited Edition)
Hublot Big Bang Integral Tourbillon Full Sapphire is the first-ever Big Bang that features an integrated case and bracelet made from sapphire crystal, see-through case back, and measures a diameter of 43 mm and height of 15.25 mm.
Its water resistance is at 3 ATM. This watch is so powerful because its power reserve is a minimum of 72 hours.
Specifications:
Hublot calibre HUB6035
21,600 VpH (3Hz) – Frequency
Bracelet is a polished sapphire crystal that comes with a deployment buckle clasp
Has transparent sapphire bridges with anthracite ruthenium plate
22k white skeleton micro-rotor
How much is it?
The Hublot Big Bang Integral Tourbillon-Full Sapphire timepiece costs $422,000.
#3. Hublot Big Bang Unico Yellow Magic (Limited Edition)
This one is a limited edition of 250 pieces available for purchase.
Indeed, a premium and exquisite timepiece. Hublot Big Bang Unico Yellow Magic is created through a unique process developed by the collaboration of the Manufacturer's R&D.
Metallurgy & Materials laboratory. It is powered by the Unico HUB1280 and features Arabic Numerals and hands.
Moreover, the crystal is sapphire with an anti-reflective treatment. The bright yellow colour will surely set magic on you and capture your interest and brighten up your day!
 Specifications:
42 mm in diameter
Water Resistance at 10 ATM
72 hours of power reserve
Polished yellow ceramic case
Polished yellow ceramic bezel
Matte Black Skeleton Dial
Lined Rubber Strap (Yellow and Black)
The price is USD 26,200.
#4. Hublot Aero Bang Gold
This watch is available for the price of USD 24,900. Hublot Aero Bang Gold houses a Certified Swiss Automatic movement with Chronograph and is water-resistant to 100 meters. The 18k gold skeleton dial is mesmerizing, paired with its large case.
Specifications:
Calibre HUB 4214 – self-winding movement
Sapphire crystal makes it scratch-resistant
44 mm 18k red gold case with red gold bezel
black PVD red gold clasp
black alligator/rubber strap
Hublot Classic Fusion Quartz
Going back to the question. What is the cheapest Hublot Watch? The Hublot Classic Fusion Quartz is the cheapest within the Hublot Fusion Classic Collection.
It may be the most affordable when it comes to price, but nothing is ordinary about this watch. This model is sold with a quartz movement. There is another renewed model that uses automatic movement.
However, the Hublot Fusion Classic Quartz is sold with a 33mm case. This is the reason why it is considered a ladies' watch. But this watch's style makes it unisex.
Some men preferred small watches, just like vintage pieces. Then, a Classic Fusion Quartz will match you perfectly.
Takeaway
Undeniably, Hublot presents extraordinary and top-of-the-line watches. It continuously creates new watch pieces that are beyond expectations.
At the same time, Hublot efficiently executed the fusion of style and robustness in every watch. For these reasons, Hublot is a highly competitive brand in the market. Once you purchase any of its watches, you hold a very valuable item in your hands.
For More Latest Lifestyle Updates and Information about Hublot Watches 2021, Visit CRECSO NEWS Magazine and Follow Us on Facebook.