It's that time again when the warm weather is kicking in, and everything is coming back to life. While you may be excited about the bustling activity of nature, you may not be excited about all the chores that the warm season will force you to perform.
You'll have to keep the grass cut regularly. Cleaning will be much more regular and rigorous to keep dirt and microorganisms at bay.
You'll have so much on your plate as it heats up that you won't even know how to keep up. Don't fret. Here is a home maintenance checklist to keep your Orlando home looking its best.
10 Spring Maintenance Checklist For Orlando Homeowners
Prepare your home for the season ahead with our comprehensive spring maintenance checklist. Ensure your property is in top shape with expert tips and tasks.
#1. Clean and Declutter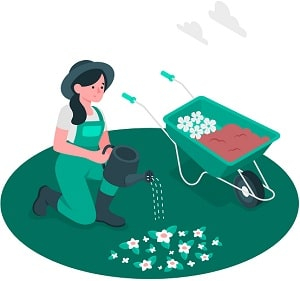 One of the most important tasks you will need to perform this season is cleaning and decluttering.
This will involve removing excess items you don't need including old clothing, excess furniture, and junk.
You can opt to rent a roll-off dumpster or get a jump removal team to remove all the clutter from your home. or you can divide your clutter into items you want to give away, things you want to sell, and of course, items you want to toss out.
Cleaning and decluttering will be critical if you plan to sell your home this season.
#2. Ensure Your AC is Working Properly
Another essential maintenance test you'll want to ensure you perform in Orlando is making sure that your AC is working correctly. The temperatures in Orlando can get extremely hot.
So, you don't want to neglect this vital task and risk being without AC for several days or even weeks. If you're unsure how to maintain your ac, having an HVAC company perform a tune-up is a good idea.
Also, if there are problems with your AC, a technician can proactively point them out and encourage you to get a new AC so you won't run the risk of having it go out later in the season.
#3. Check For Pests
A critical task you will want to also add to your checklist this season is ensuring your home is pest free. Pests in Orlando can be a significant nuisance, especially with so much moisture during the warm seasons.
Termites may become a big problem and can even destroy your home. So make sure you hire a pest control company to inspect your home and treat it for some of the most annoying pests you'll encounter this season, such as mosquitoes, roaches, and termites.
#4. Also, Check For Reptiles
While you're checking for pests, you may also want to check for reptiles, too. A few small lizards may try to take up residence in or near your property.
But the significant threats you'll want to keep a watchful eye on are alligators and crocodiles that may want to take a swim in your pool.
It will be helpful if you not only have a pest control company on speed dial, but also a wildlife specialist so that you can get them to remove any of these critters as soon as they perch somewhere on your Orlando property.
#5. Clean the Roof and Gutters
Moisture in Orlando is a severe problem during the warm season. So, to keep microorganisms such as moss or black algae from destroying your roof, it is ideal for cleaning it.
A low-to-medium powered garden hose and mild detergents will get the job done. But it may be a safer option to hire a pressure washing company.
In addition to roof cleaning, don't forget about the gutters. These are critical to keeping your roof and your foundation safe. If your gutters are clogged, this could lead to costly repairs on your property, including the gutters themselves.
#6. Power Wash the Exterior Surfaces
In addition to cleaning the roof, you should also get a pressure washing team to clean other exterior surfaces of your property.
This is especially critical if you plan to hire a top agent in Orlando to sell your home this season. Something as simple as cleaning your home will make a huge difference to potential buyers.
Try to clean dirty decks, siding, sidewalks, and driveways. Also, get the windows cleaned.
#7. Make Sure Landscaping Looks Its Best
This is the time of the year with everything will be blooming. However, you can't leave your lawn to fate. Make sure you are mowing the lawn regularly.
Also, you may want to remove old mulch and replace it with fresh mulch. Mother nature may do an excellent job of watering your grass for you. However, if there isn't enough rain in Orlando this season, try to do some irrigation yourself, particularly early in the morning.
Also, don't neglect the trees and bushes on your property. Proper trimming and pruning can do wonders both for aesthetics and for safety reasons.
#8. Treat Weeds on Your Lawn
Chickweed, dandelions, and crabgrass may be ready to make their debut on your lawn this season. But you don't have to let them come in and set up shop.
Instead, try to proactively treat your property to prevent them from growing. Or, immediately remove them once you see them growing in your yard.
#9. Ensure Yard Grading Is in Good Condition
Another item to add to your checklist is your yard grading. In most cases, yard grading shouldn't be much of an issue. However, if you notice that your yard becomes a swampland almost every time it rains, you may want to fix this issue as soon as possible.
Not only could this be a threat to your foundation, but it could also be a breeding ground for mosquitos. Additionally, improper drainage can cause lawn diseases.
A landscaping company will be able to ensure that your Orlando yard properly drains by adjusting the yard grading to ensure rainwater runs off the property.
They may also have to install drainage systems, such as French drains, to properly move water away from your home.
#10. Keep the Pool and Lanai Cleaned
If you have a pool, keeping it cleaned at least once a week is a good idea. This not only keeps it ready for use but also keeps pests and wildlife away. Don't forget to keep the lanai clean and free of cobwebs, leaves, and other unsightly dirt.
As a homeowner in Orlando, following our spring maintenance checklist is essential to keep your property in optimal condition. Prepare your Orlando home for the beautiful spring weather with our expert maintenance checklist.
Maximize curb appeal, address potential issues, and ensure a smooth transition into the new season.