Have you been looking to spruce up the interior of your home? If so, it is always a good idea to appreciate the latest decoration tips and tricks.
The only possible issue involves any budgetary concerns that you may have. Are there any ways in which you can save a significant amount of money while still I am buying the environment with a bespoke sense of beauty?
You can create an attractive and functional home on a budget with interior design tricks and tips. There are many creative ways to customize your home on a budget, from DIY projects to thrift-store finds and repurposing.
Budget-Friendly Interior Design Tips
A simple update, such as a new coat of paint or rearranging your furniture and adding budget-friendly lighting and textiles, can have a huge impact.
It is also possible to create a welcoming interior by decluttering, organizing and using elements inspired by nature.
Minimalist design and a minimalist approach can be very effective. You can turn your home into an inviting and stylish space that fits your lifestyle and budget with a little creativity.
14 Budget-Friendly Interior Design Tips
Lets take a look at how to find great online deals before moving on to discuss some additional options.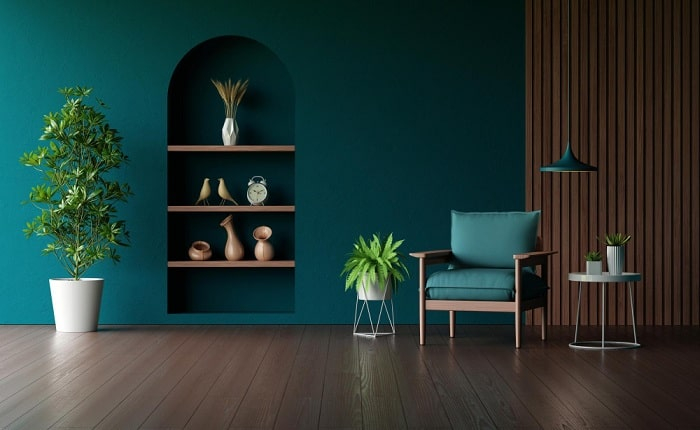 Related: Simple Interior Design Tips For an Eco-Friendly Home Makeover
#1. Search for Online Deals and Discounts
One of the best ways to save a great deal of money is to leverage the scope of online discount portals such as Couponbox.
Not only can you select from a wide variety of items such as nursery décor, upholstery and blankets, but the deals themselves are updated regularly.
So, it has never been easier to come across high-quality products at amazing price reductions.
Read: Interior Designer V.S Contractor: Whom To Hire For Home Decoration!
#2. Embrace and Eco-Friendly Edge
Many industry experts have begun to stress the advantages associated with eco-friendly interior design solutions.
Not only are these strategies excellent ways to protect the environment, but they can also save you a significant amount of money over time; particularly when referring to energy bills.
Here are some methods to consider:
Purchase plants to purify the air within different rooms.
Install LED lighting fixtures. These consume much less energy when compared to in can descent bulbs.
Make certain that the proper cavity wall insulation is present, as this can help to reduce energy costs during the colder months of the year.
These are a handful of sustainable interior design solutions which can provide you with a superior level of comfort while simultaneously increasing the aesthetic appeal of your home.
Read: Simple Interior Design Ideas To Give Your Home a Makeover
#3. Choose Quality Over Quantity
Many property owners who are grappling with a limited budget mistakenly believe that cheap furniture and accessories are the most economic solutions.
On the contrary, the exact opposite is true. Countless online authorities have right fully observed that quality purchases will stand the test of time.
In other words, spending slightly more will ensure that the items throughout your home will last longer. This can help you to avoid purchasing costly replacements in the not-so-distant future.
Read: The Hybrid Work Schedule's Impact on Popular Home Interior Decor
#4. The Illusion of Light
Let there be light! However, what if you are unable to afford high-end items such as wall sconces or chandeliers? Why not instead provide the illusion of both light and space?
Try to configure your rooms in a manner which enables them to obtain the maximum amount of natural sunlight on a daily basis (based upon where near by windows may be located).
Also, a few well-placed mirrors can work wonders in regards to reflecting any ambient light that may be present. Not only are these two very cost-effective strategies, but they are ideally suited for smaller spaces that might other wise feel cramped and restrictive.
Read: 9 Tips on Designing a Perfect Conference Room
#5. Rearrange Furniture:
Rearranging furniture will give you a new look without having to spend any money. Try different layouts for optimal flow and functionality. Also, consider moving your furniture to a new room to give it a fresh look.
#6. Use Textiles:
Throw pillows, curtains, and rugs can be used to add texture, colour and pattern without costing a fortune. Consider budget-friendly alternatives or make your own using affordable fabrics.
#7. Focus on Lighting:
Lighting has a significant impact on the atmosphere of a space. Create a warm, inviting environment with budget-friendly options such as a table or floor lamps. Replace outdated lighting fixtures with modern and affordable alternatives.
Read: How Can You Select The Best Tiles For Your Interior?
#8. Declutter and Organize:
Keep your home clean and decluttered. It will make a huge difference to the way it feels and looks. To keep your space neat and appealing, invest in inexpensive storage options, like baskets, hooks or shelves.
#9. Use Nature:
Natural elements such as flowers, plants or shells can bring a sense of freshness and beauty to any space. Use budget-friendly flowers and plants, or gather natural elements to make unique décor items.
#10. Minimalism:
Keep your home decor clean and simple. Budget-friendly minimalist design involves the decluttering of clutter, simple shapes and lines, and an emphasis on essentials.
Read: How To Chose Right Building Designer for Your Home
#11. DIY Projects:
Do-It-Yourself (DIY) projects are a great way to add some uniqueness and personalize your home. Create your wall art or paint furniture for a new look.
You can also repurpose old items and use them in new ways. You can customize your home while keeping the costs down with DIY projects.
#12. Thrift Stores & Flea Markets
Flea markets and thrift stores are great places to find affordable home décor. Find unique pieces such as art, vintage furniture and decorative accessories. You can easily update items with new paint or hardware that fits your style.
#13. Repurpose or Upcycle your old items:
You can create new decor on a budget by repurposing or upcycling existing items. You can, for example, turn wooden crates or ladders into bookcases and use Mason jars to hold candles. Find new uses for items you have or find inexpensive materials to make something original.
Read: 5 Unexpected Ways To Add Art in Your Home
#14. Paint:
Paint is one of the most cost-effective and effective ways to transform an area. Paint can update and transform a space instantly.
It will change its mood and give it a brand-new feel. Consider using budget-friendly options for paint and painting the room yourself to reduce labour costs.
We can now see that it does not cost thousands to enjoy what modern interior design tips have to offer. Of course, please do not hesitate to speak with a professional in order to obtain even more valuable tips and suggestions.
It's important to remember that creating an interior design within your budget is about creativity, being resourceful and paying attention to what you value in terms of functionality and style.
These tips will help you transform your home into an inviting and beautiful space without spending a fortune.
For More Interior Design Tips and Information about Budget-Friendly Interior Design Tips and Tricks, Visit CRECSO NEWS Magazine.