Italy is well known for its flourishing art, ancient and wondrous architecture, divine scenery, high-octane music, balmy weather, 'flavourful' food, and exotic language.
Italian is usually perceived as difficult to learn. Contrary to popular belief, language is one of the easiest for an English speaker to learn.
Although the grammar and sentence structure largely differ from the English language, both languages share a common origin (Latin).
As a result, both languages share thousands of cognates (cognate being words which sound the same and possess the same meaning), which largely simplifies the learning process.
However, while many people admire and would love to learn the language, this could prove not easy without some form of assistance.
Unfortunately, it's often difficult to get proper assistance when learning a language which dampens the zeal and enthusiasm of the potential learner.
However, its a new dawn for those who seek to conquer the Italian language. We've discovered a series of language learning apps for beginners that teach Italian.
Best 3 Apps to Learn Italian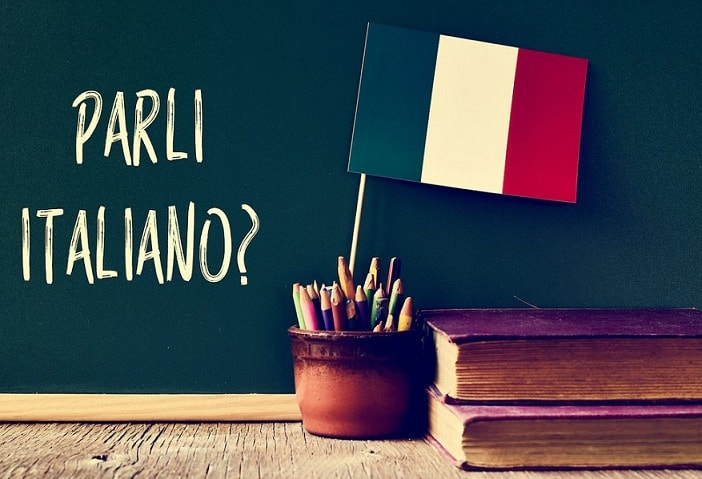 #1. Italian On-the-go
Carving out time from an extremely busy schedule always poses an arduous task for dream chasers who live life at a fast pace.
It is near impossible for these persons to make time to study any material that has no direct bearing on their careers.
Suppose you belong in this category, no worries. The solution is to pick an app designed to help those learning the language. Towing tons of books around has become a thing of the past.
For constant travelers who spend loads of time on trains, airplanes, or cars, an app that enables you to access your favorite language learning book in PDF format could be just the answer.
However, if you prefer listening, a fast and fun podcast or Italian audio lessons in mp3 format can be a viable option, especially when in transit.
The audio-visual learning method would probably be a better fit for those more partial to video lessons.
However, YouTube provides a wide variety of pre-filmed lessons, which gives you a chance to learn Italian anywhere.
#2. Language is no Barrier
If you have a trip to Rome planned, but your Italian is rusty or just plain inexistent, there is no need to panic.
If you wish to brush up or learn a little Italian to travel, look for an app that helps tourists find their way to Italy with minimal vocabulary.
You will be able to learn crucial phrases and memorize expressions that will aid you in almost every situation.
However, if you already have basic knowledge of the Italian language or your level of knowledge is average, and you're looking to brush it up, narrow your search down to apps for more advanced users.
You will save yourself the nuisance of repeating things you already know. In some cases, you may need a quick word translation or an explanation of a phrase you encountered.
If this is your case, you should get an app that accommodates word or phrase translation. Some apps also have incorporated facilities that allow you to take a photograph of the text with a smartphone's camera and translate the word or phrase to English.
#3. "Parla Italiano?"
You might be a beginner trying to learn the basics of the Italian language.
You might be at the intermediate level already putting sentences together, or you probably need someone to converse with while simultaneously brushing up on your Italian, regardless of whatever category.
There's help for you. You might want to search for language exchange apps that connect you with others. These exchange apps are key to making a success of your Italian journey.
"But how do I find classes near me?" If you've been asking this question, worry no more.
Some specialized language exchange apps could be of tremendous help in your search for an Italian lesson with a private teacher. Reddit is another good internet spot to consider.
This site is accessible through several different apps, so be sure to pick one that enables its advanced features and lets you stay in touch with your new friends wherever they may be.
By exploring the possibilities and making an informed choice of apps to use in your quest to conquer the Italian language, you will be able to get the best tailor-made lessons in Italian, allowing you quick mastery over the language, such that the next time you encounter native speakers, who ask "Parla Italiano?" you'll be able to respond with a cheerful "si."
Conclusion
Language is much more than a group of words with instructions on how they are structured together to form a coherent thought.
It is the key to unlocking and understanding a whole different world. Learning the Italian language brings you closer to a very rich tradition.
With the help of specialized apps, learning the language can be easy, fun, and adaptable to your schedule.
For More Latest Education Updates and Information about Apps to Learn Italian, Visit CRECSO NEWS Magazine. Follow Us on Facebook and Google NEWS.