Experience seamless operations and enhanced efficiency with BPA services in India. Revolutionize your workflow and stay ahead in today's competitive business landscape.
BPA Services India offers top-notch business process automation solutions to help streamline your operations and boost efficiency. Our team of experts can help you automate repetitive tasks, reduce costs, and enhance productivity.
Business process automation services refer to the use of technology to automate repetitive, manual tasks in a business or organization.
This can include data entry, document management, and workflow management. Business process automation aims to improve efficiency, reduce errors, and save time and resources.
Automation can be achieved through software tools, such as workflow management systems, robotic process automation (RPA), and artificial intelligence (AI) applications.
What is Business Process Automation?
Automate and streamline your business processes to remain competitive in the digital-first age. The performance of people, processes, and technology are critical factors in a business's success.
Technology and people change over time. It is, therefore, essential to ensure consistency across all processes.
Our BPA services help you to simplify and redefine your business process, thereby enabling process-driven thinking.
BPA Services India
Discover the transformative potential of BPA services in India. Revolutionize your workflow, eliminate manual tasks, and achieve optimal productivity and cost savings.
Business process automation services typically include the automation of various business operations and processes such as data entry, workflow management, document management, customer service, human resources, and financial processes.
This can be achieved through robotic process automation (RPA), artificial intelligence (AI), machine learning, and cloud computing.
The ultimate goal of business process automation is to improve efficiency, reduce errors, and increase productivity by automating repetitive and time-consuming tasks.
Business Process Automation Services India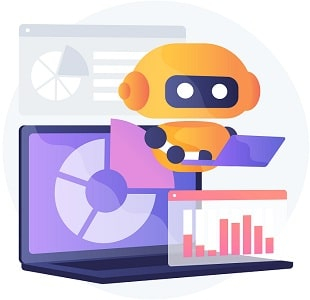 Leverage advanced business process automation services in India to revolutionize your workflow. Streamline operations, reduce errors, and maximize your business's potential.
We will help you gain better business insight and smooth workflows. Additionally, we will improve security and reliability and reduce process-related costs.
CRECSO can help you use technology to transform your work. We streamline your core business processes and make them simpler and more automated.
Our broad range of BPA capabilities will support your digital transformation through automation. This will help you stand out in today's market and the future.
BPA-Planning (Process Review)
Our experts perform a thorough root-cause analysis of your business workflow to determine areas that require improvement or automation.
We investigate to identify the key stakeholders, their roles, how efficiency has been maintained, common bottlenecks, errors, and what causes the most delays.
This helps us to redefine workflows and recommend the Target Processes for automation.
BPA Strategy (Process Redesign).
Our BPA team will recommend the exact scope of automation depending on the complexity of the business processes to be improved.
We use the most effective practices, such as Impact Analysis, Risk Analysis, and UX Mapping, to critically evaluate all aspects before recommending a solution for redesigning specific business processes.
Execution (Implementation and Testing)
We ensure that the process automation you choose is implemented smoothly, regardless of whether it involves developing a new application, editing existing code, or using specialized BPA software.
We provide comprehensive execution support, including testing and training, and change management to create a supportive environment that maximizes the returns on automation.
Automation Advisory
Our experts identify and mark problem areas and then help you choose and implement the most suitable automation solution.
Basic Automation
Basic Automation should be used if you have automation needs mainly focused on simple tasks, usability and communication.
It focuses less on automating complex tasks and consolidating all relevant information.
Process Automation
We recommend Process Automation for complex business processes. It includes robust documentation and team task management through a standard workflow.
Integration Automation
Let's say your business processes could be more varied. If this is the case, integration automation can be a good option.
It will allow you to use your existing infrastructure and simulate additional workers for most repetitive tasks.
AI-Enabled Automation
AI-enabled Automation can help you reduce manual effort and increase output without error.
You can create a digital workforce capable of processing data like humans by integrating artificial intelligence to automate decision-making.
BPA Services Expertise
Business Process Automation can be used across many functions and industries. However, the benefits of automation in fundamental processes such as CRM, Marketing, Human Resources, Procurement, and so on are more encouraging.
CRECSO provides Customized BPA Solutions for companies to help them grow and accelerate their business operations.
CRM
We help you improve efficiency and reduce costs by automating your customer relations.
We can help you create a virtual assistant that helps customers on the front end and gives employees and agents the resources and information they need on the back end.
Human Resources
Human Resources has many pre-defined processes that can easily be automated using customized workflows. We can help you to reinvent your HR workflows.
We can also help automate dynamic processes such as talent acquisition and performance management by redesigning existing processes and creating more intuitive engagement systems.
Our BPA services can help streamline your HR function and increase efficiency at all levels within your company.
Procurement & Supply Chain
Procurement automation can be a great way to streamline sourcing, manage supplier relationships and control spending.
BPA experts can help you create a futuristic plan to meet your procurement needs. They will share information-based perspectives that will optimize procurement.
We also assist you in dealing with third-party threats by using best practices for Vendor Relationship Management.
This will allow you to make better decisions, optimize preferred vendors, and explore new procurement sources to maximize your ROI.
Our process automation solutions simplify and automate supply chains, improve relations with B2B networks, ensure consistent and reliable supply chain transactions, and help you maintain better relationships.
Marketing
Our experts can assist you with a variety of BPA solutions. These include intelligent Chatbots that increase customer engagement and streamline marketing operations.
They also offer advanced BPA solutions that automate routine and strategic marketing operations, such as auto-allocations of leads to the right salespeople, classification of customers' mail, quicker handling of claims & grievances, and direct reporting & notifications.
Sales forecasting, placement of Google ads, and placing of Google ads.
Finance and Administration
CRECSO provides a range of BPA services that will help you manage the end-to-end transactions in your Finance and Administration processes.
We assist you in identifying areas of your financial workflows that need minimal human intervention.
Why Choose CRECSO BPA Services India?
Take your business to new heights with BPA services in India. Embrace cutting-edge automation technology to revolutionize your workflow and drive success.
Competence
We have a highly experienced team with vast technological expertise that is fully equipped to deliver perfect solutions for all your requirements.
Commitment
Our dedicated and highly skilled team works tirelessly to ensure that our clients receive timely and error-free solutions.
Credibility
We are committed to providing the best technical solutions for our clients.
Collaboration
Our engagement is clear and transparent. Our teams work hand-in-hand with clients to ensure exceptional service and long-term relationships.
Client Orientation
We believe in the Client-First approach. All our efforts are directed toward creating winning solutions for our clients, even if that means going the extra mile.
Client Satisfaction
Client satisfaction is our top priority. We take full ownership and responsibility to offer you more value for your money and keep you ahead of the competition.
FAQs – BPA Services