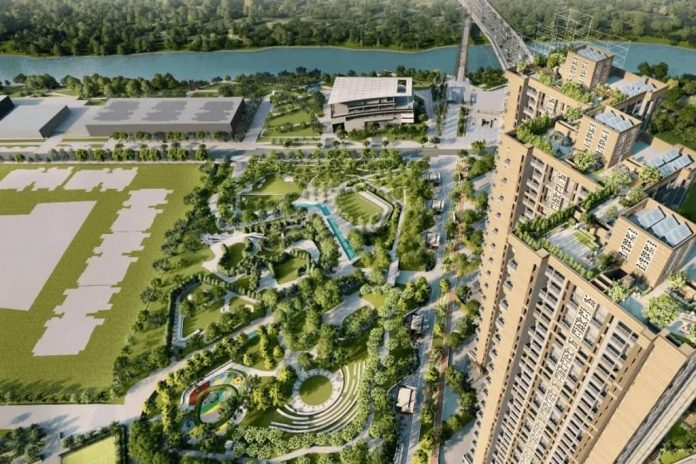 I am keen to invest in properties; thus, I keep looking for well-furnished and spacious apartments.
This time I wanted to purchase an apartment at one of Pune's primary locations.
Luckily, while searching for a well-furnished property to invest in, I came across this fantastic residential complex named Godrej Meadows, located in Mahalunge, Pune.
I learned about Godrej meadows through a friend who owns a property on the same premises. I heard many about these apartments' features and the developers' services.
Hence, I decided to pay a visit and look around to decide whether it would be an ideal investment.
The housing complex comprises 300 units of roomy apartments packed with luxurious amenities and is a dream for property investors like me.
I always look for comfort over design when buying flats, but this apartment is comfortable for medium-small families and is super-stylish and uniquely designed.
Godrej is a reputable and famous name in every household; thus, Godrej properties would satisfy you.
Godrej meadows lived up to my expectations. The focus on wellness and nature is remarkable in these uniquely crafted apartments.
It is not a regular residence, and I can say that after carefully going through every claim they made. The residents are packed with amenities amid nature.
The scenic view is a treat for the eyes, and the widespread greenery will keep your lungs healthy and mind happy.
Godrej Meadows Top-Class Amenities Offered
If you think every housing complex offers the same amenities everywhere, let me change your perspective by taking you through the amenities offered at Godrej Meadows.
The residence has its Keto-cafe, where you get healthy and tasty food to satisfy your fitness freak. An in-society counseling center along with a pharmacy and medical consultation clinic.
Additionally, it has a healing and herb garden with enormous healing herbs and an oxygen-rich ambiance. They offer an Ikigai-inspired clubhouse for your contentment, apart from a wellness center to calm your mind.
Finally, the best thing I like here is the mesmerizing Gazebo.
3 Reasons Why I Recommend Buying A Home In Godrej Meadows
#1. Extremely Affordable
I was taken aback when I saw the price range of apartments in the Godrej Meadows brochure.
This is because getting an apartment at such affordable rates at one of the premium locations of Pune is nearly impossible.
Godrej meadows' price range starts from 45 lakhs to 85 lakhs for 1,2 & 3 BHK apartments.
#2. Location Benefits Of Buying A Flat In Godrej Meadows
There is no doubt that the location of Godrej Meadows makes it attractive.
Surrounded by 7.5 acres of green land along with Forest walkways for an adventurous but safe environment, Godrej Meadows has ticked all the boxes for being a one-of-a-kind housing complex.
I was personally influenced by the connectivity and commute options. The location is close to premium hospitals like Jupiter and Lifepoint hospital. It is just 6 minutes away from Hinjewadi IT park.
#3. Excellent Reputation Of Godrej Developers
Godrej is a household name trusted by almost every home in India. Thus, Godrej Properties' reputation makes them the best real estate developers.
I am saying this because I witnessed their perfection and class-apart designs through my eyes. The developers have over 125 years of excellence and 250+ awards.
Buying a property in Godrej Meadows has been one of the best decisions of my life. Not only did I get a great deal, but living here has also been a blessing to my health!
If you are looking for properties in Pune, visit NoBroker for verified information about the real estate project.