Create a captivating e-book effortlessly! No design skills are needed. Craft professional content with ease and boost your online presence.
Have you ever thought about To Create an Ebook Perfectly to blend a conventional solution with a contemporary one to create a fantastic business product?
A classic example of this is an ebook that combines the traditional concepts of book reading and digitization.
No matter how old the book-reading idea becomes, it will always retain its particular value. Blending it with a digital concept can create the perfect combination for book lovers, business people, or marketers.
That is why an ebook is an emerging thing for anyone seeking a business uplift in the online world.
There is understandably fierce competition since this is a well-recognized method for business people and individuals alike.
That means that your ebook has to be appealing, both design and content-wise, to impact substantially.
It should be catchy and contemporary to get the attention of a potential client looking to gain advantages.
It should have all the required elements to address their needs and be compelling and convincing enough for them.
6 Best Ways To Create E-Book Without Designing Skills
Unlock your creativity and create an e-book without any design skills. Craft a polished masterpiece that showcases your knowledge and expertise.
It should not be a traditional 'book' per se but contain audio-visual content. The good news is that you can craft an ebook or even create ebooks software with a few simple tips.
Once you conclude this article, you'll know the basics without using excellent design skills, and it'll prove to be your one-stop to learning the ebook secrets. So let's begin.
#1. Decide On Your Content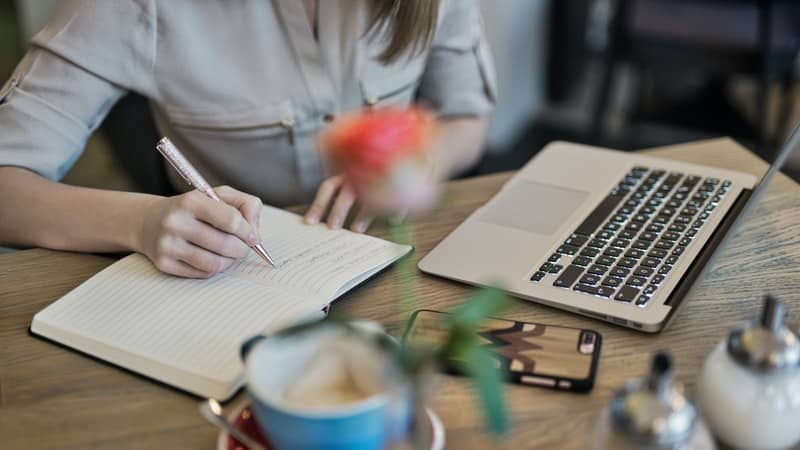 Your content is the backbone of your ebook, and you should ensure it is as stunning. First, it must address the needs of the person reading it to capture your target audience's attention.
It is such a reality that even the best design is incomplete without good content. There is no denying that it will consist of all the required information. But since many others are doing the same, who should present yours interestingly?
For this, you will need to think out of the box and apply appealing phrases and terminology. Your goal is to make your ebook fluent enough to keep the reader's attention intact.
#2. Pay Attention to Design
Your layout is the second, equally important factor when garnering attention. If this is not the case, it will not complement your content, and your efforts may fail.
Make sure your ebook is a combination of several design elements to keep the attention span intact. When the design and the content complement each other, half of the job is done.
The second most crucial factor in terms of design is the factor of readability. If your content is text-heavy and doesn't support images, it will fail to make the desired impact.
Your font is also instrumental in providing solace to the reader's eyes. Make the ebook readable enough, and it will come back with significant rewards.
Trending: Top 10 Social Media Marketing Tools for Explosive Growth
#3. Utilize the Best Themes
The themes and templates are available online for a reason; with them, an ebook is complete. A layout makes your job pretty simple and amazing too.
Moreover, the built-in templates available with software make the job both productive and exciting. All you need to do is identify which themes will work best for you and then incorporate them.
First, you should write down the elements and components you want in there. Secondly, you can narrow down the list to come up with the ones you like.
The sole purpose of the theme is to have the page templates, fonts, colors, and other elements in ready form.
It enables you to concentrate more on the content, putting words, ideas, and images together to create a fascinating piece.
#4. Never be Monotonous
Many ebook writers tend to overlook this, so they end up with pieces that need to be more interesting. The key is to remember your article; keep it from becoming a literary piece devoid of interest or color.
Your sole aim is to keep the reader engaged or, better said, glued to it. Instead of making it text-heavy, make it intriguing, fun and treat the reader's eyes.
So, the last thing you would want in your ebook is monotony. Utilize a combination of text and images to keep them going to the next pages.
#5. Calls to Action a Must
No one would want their ebook, containing all the invested elements, to end without stimulating readers toward action.
Therefore, calls to action are a must to get the desired output. It should function as a giveaway on your website, market your product, or attract new potential clients.
At a later stage, you can sell it for a price to turn it into a business. That means you should brainstorm and determine the sole purpose you want to achieve.
Do you want to get hired, increase viewers to your podcast, sell your product, promote your writing, and gain an online review?
Once you decide, put them forth in the form of takeaways, share content online, or drive them to your online platform.
#6. Seek an Improvement
Regardless of how unusual or convincing your design is, you can always take it to the next level. Therefore, seek improvement to upgrade your ebook to make it even more competitive.
The smart way to do so is to continue reviewing your content and looking online for more elements to incorporate.
Continue to get insights from the marketing and content creation experts to always be top-notch in your creation.
Final Word
Your ebook can be the next hands-on business material you can effectively use through digital marketing for tremendous output.
You need to be savvy about the components to bring about the result and projection you want. The key is to be abreast of all the contemporary developments and focus the most on your content and design.
If your ebook has a fantastic layout, the combination of elements, non-monotonous, coupled with some marketing, will always derive results.
For More Software Technology Updates and Information about How To Create E-Book, Visit CRECSO NEWS Magazine.