As heating costs rise in many areas of the country, more people are considering replacing old or inefficient heating systems and furnaces.
Selecting your new heating system will depend on several factors, such as the size or age of your home and your region.
Understanding the variables in furnace replacement expenses is crucial when determining which system is best for you. Some costs are upfront, while others are less obvious.
And often, people focus on a visible expense but don't understand there may be cost-savings or additional expenses over time.
Consider Your Home and Region
Your home construction, having a basement, and the type of foundation you have are all factors that will determine the type of heating system you choose.
For example, installing an in-floor heating system could be impractical and costly if your home is on a concrete foundation.
Where you live also matters. Some heating systems work well for milder climates but would not supply enough heat for extreme cold conditions.
Other heating systems depend on having access to specific fuels like natural gas or wood.
Should You Repair or Replace Your Heating System?
It can be tempting to repair your existing heating system. But many older systems and furnaces are inefficient and costly to operate even in good condition.
While the upfront costs of installing a new system can be hefty, you may realize significant savings over time due to increased efficiency.
Maintenance and Ease of Use
Some homeowners love taking a DIY approach, while others prefer to call a handyperson. You may choose your home heating system based on how accessible it is for home repairs.
Furnaces and boilers often require less maintenance and repairs than other types of heating.
But ease of use isn't only about maintenance. You may not have access to every type of heating fuel or need your heating system to be controllable from a single, central location.
Heating That Fits Your Style
If you live in an area not requiring frequent heater use, you can opt for electrical resistance or radiant heating. Or you may choose your heating system based on how environmentally friendly it is.
For example, a mini-split or ductless heat pump can allow you to control the heating in each room, ensuring you don't heat unoccupied rooms.
If you live in a sunny location, you can take advantage of solar heating options. Finally, furnaces and heaters remain popular and are the most common home heating system nationwide.
If you are worried about efficiency or sustainability, newer options on the market are better for the environment and use fuel sources more efficiently than older models.
Research Your Chosen Heating System and Model
Even if you plan to call a handyperson for repairs, learn about your new heating system. Understanding your chosen heater will make you more likely to operate it appropriately and effectively. That will result in fewer costly repairs and prolong the life of your heating system.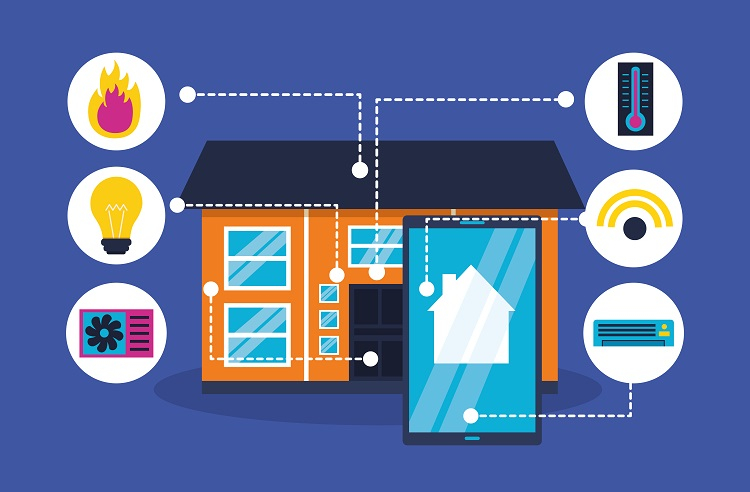 10 Types of Heating Systems for Homes
It's easy to turn up your thermostat when temperatures fall. The right home heating system will reduce the load on your thermostat and save you energy.
All heating systems have one common goal: transferring heat into living spaces to maintain a warm and comfortable environment.
Many homes have multiple heating systems, especially if they have a separate system for a basement or a room. You should know the ten different heating system types as a homeowner or prospective homeowner.
#1. Furnace
The most common home heating system is the forced air distribution system. The furnace has a fan to distribute heated and conditioned air through the house via ducts.
The forced air system shares the same blower, ductwork, and air conditioner. It can be used in the summer.
Fuel Source: Natural Gas, Propane, Oil or Electricity
Forced air furnaces combine cooling and heating in one system.
Advantage Gas furnaces are prone to fires, explosions, and carbon monoxide poisoning.
Read: How To Prepare Yourself and Home For An Air Conditioning Installation
#2. Boiler
Some older homes and apartments have boilers with radiators. The central boiler circulates water or steam through pipes and radiators around the home.
It is ideal for zoned heating and air conditioning but less effective for heating large areas simultaneously.
Fuel Source: Natural Gas, Propane, Biodiesel Blends, or Electricity
Advantage: Comfortable heat without drying the air, unlike other heating systems
Disadvantage: A boiler system cannot be combined with an air conditioner for a year-round HVAC system
Read: How to care for porcelain stoneware tiles
#3. Heat Pump
Heat pumps are the latest technology in home heating systems. Heat pumps use a similar system to air conditioners, extracting heat from the air and delivering it to the home via an indoor air handler.
The mini-split system or ductless system is a popular heat pump. This system comprises a small outdoor unit and indoor air handlers, which can be installed in various rooms around the house. These units are flexible and can be set to air conditioning during summer.
Fuel Source: Electricity and natural gas
Benefit: Wall units can control the temperature of each room precisely and do not require ductwork.
Disadvantage: Not effective in cold climates
Read: Spring Maintenance Checklist For Orlando Homeowners
#4. In-Floor Radiant
Radiant systems distribute heat evenly throughout the home. In-floor radiant heating systems are usually made up of plastic tubes that are either buried in concrete slabs or attached to wood floors.
These systems are quieter than other heating systems. In-floor radiant systems can also be used with ceramic or stone tiles.
In-floor radiant heating systems provide warmth throughout the house, even if they are slow at heating up.
Fuel Sources: Natural Gas, Propane, Electricity, or Solar Hot Water Systems
Advantage: Radiant heating systems ensure a constant, even, and comfortable temperature throughout the home
Disadvantage: It's hard to reach the hidden piping and may require you to tear down the flooring.
Read: Best Silent Generators for Home
#5. Electric Resistance
Due to the high price of electricity, electric resistance heaters or electric heaters do not serve as the primary heating system for the home.
They are good for supplemental heating in home offices, basements, and season rooms. Electric heaters can be easily installed and are relatively cheap. Electric heaters are usually portable and can be moved from one room to another.
These systems are also free of moving parts and require little maintenance. They don't use ductwork or air handlers.
Fuel source: Electricity
Advantage: Electric resistance systems can be installed anywhere.
Disadvantage: They consume a large amount of electricity, which can increase your energy bills.
Read: The Benefits of Hurricane Windows Shutters
#6. Baseboard Heater
Hydronic baseboard heaters, or hot water baseboard heating systems, can provide radiant heat in a highly efficient way.
These systems use a central boiler to heat water circulated through a network of pipes and baseboard heaters.
They are modernized versions of the classic upright radiator system. These radiators help warm air from the baseboard while pushing cold air toward the unit.
Fuel Source: Natural Gas, Propane, Fuel Oil or Electricity
Advantage: Hydronic systems provide precise temperature control mechanisms
Disadvantage: Air conditioning systems and boilers cannot be combined.
Read: Benefits of Investing in an Outdoor Sofa for Your Patio
#7. Electric Space Heater
Electric heaters are also known as plug-in or portable space heaters. They can be affordable for homeowners who don't experience cold temperatures.
They are great temporary solutions that deliver controlled and targeted heat minutes after being plugged into a power source.
Electric space heaters convert electricity directly into heat by converting it to oil. This is similar to the way a toaster operates.
Modern electric space heaters have cooling fans that can be used on hot days. They are perfect for studio apartments and home offices.
Fuel source: Electricity
Advantage: These heaters can provide an instant source of heat
Disadvantage: Their system won't heat a whole room or house
Read: Ways to Make Your Home Healthier
#8. Active Solar Heating
Active solar heating is a more modern home heating system that uses solar power to warm a fluid. The heat is transferred directly into an interior space or stored in a storage device for later use.
Radiant heating systems, heat pumps, or boilers are often used to supplement these. Active solar heating systems can distribute heat through radiant floors, hot water baseboards, or central forced air.
Unfortunately, the efficiency of active solar systems is still dependent on other heating systems in homes.
Fuel Source: solar energy
Advantage: A more environmentally friendly approach to heating a house
Disadvantage: Active solar systems still depend on traditional heating systems for operation.
Read: Things to Consider Before Remodeling Bathroom
#9. Hybrid Heating
Hybrid home heating systems combine the efficiency of a heat pump system with the power and performance of a gas heater.
The heat pump is usually operating at full capacity to heat your home. The furnace supplements the heat pump system during severe weather conditions.
Both systems are complementary, so less wear and tear leads to fewer repairs and replacements.
Fuel Source: Electricity and natural gas
Advantage: Hybrid heating systems provide a complete solution for extreme temperatures.
A Disadvantage is that the heat pump must be maintained regularly and serviced every two years.
Read: Reasons To Clean Mattress For a Healthy Life
#10. Gravity Air Furnace
Gravity air furnaces are a modernized version of traditional furnace heating systems. They distribute air via ducts.
Gravity air furnaces do not use a blower to force air but instead allow warm air to rise and cool air to fall.
The air is heated in the basement and then pushed up through the doors into the rooms. Cool air is returned to the furnace by a system of return ducts.
Fuel Source: Natural Gas, Propane, Oil or Electricity
Advantage: This system is virtually maintenance-free, with no moving parts.
Disadvantage: It takes a long time to adjust the temperature because the system works on simple convectional currents.
Read: 10 Reasons Why People Prefer Ducted Air Conditions
Bottom Line
You can make better decisions about heating your home or choosing the right system when looking for a new home if you understand the different types of home heaters. Knowing which system is best for you could save money and time.