Unlock the secrets to pristine porcelain stoneware tiles. Our care tips will help you prevent stains, scratches, and damage, keeping your floors looking flawless.
Porcelain stoneware tiles are a popular choice for homeowners due to their durability, versatility, and aesthetic charm. Proper care and maintenance are essential to ensure that these products keep their beauty and function for a long time.
With this guide, we'll provide you with technical instructions and practical tips on maintaining and effectively cleaning your porcelain stoneware tiles, to preserve their unique beauty.
How porcelain stoneware tiles are made
Porcelain stoneware is made from refined clay and other natural materials. It is fired at high temperatures, usually between 1200 and 1400 degrees.
The result? Is a dense, durable, and low-maintenance product resistant to stains, humidity, scratches, and even high foot traffic. That's the reason why we can consider Italian porcelain tiles, also known as "grèsporcellanato", as the ideal choice both for indoor and outdoor spaces.
There are two main types of porcelain stoneware tiles. Unglazed porcelain, also known as full-bodied, has consistent colour throughout its thickness. As regards glazed porcelain, on the other hand, it has a surface colour layer.
Daily maintenance of porcelain stoneware tiles
Regular cleaning is essential to maintain the typical beauty of porcelain stoneware over time. In fact, frequent maintenance can prevent the build-up of dirt and grime, keeping your tiles in top-notch condition. But what are the steps to follow?
First, it is crucialto sweep and vacuum porcelain stoneware every day. This will remove dirt and debris that could potentially scratch the surface of your tiles. Then, you can easily mop your floors weekly using a soft, damp mop.
For unglazed tiles, use hot water only. For glazed tiles, you can use a mild detergent. Always remember to rinse the tiles thoroughly to avoid leaving any soap residue behind.
After that, you can proceed with the drying phase. It is important that the tiles are completely dried to avoid the creation of unsightly halos or stains.
Deep cleaning to make the tiles shine
Occasionally, your porcelain stoneware tiles may need a deep clean to remove stubborn dirt or stains.
Although it is a very resistant and durable material, it is still vital to use the right cleaning agents to ensure the longevity of your tiles. You can choose between various options:
Neutral pH cleaners. These products ensure that the natural colour of your tiles will not be affected. Acidic or alkaline cleaners can lead to discolouration, especially on glazed tiles, and could potentially harm the grout.
Professional products. Today, there are many professional products available, specifically designed for cleaning porcelain stoneware tiles. They are a great choice, especially for deep cleaning or removing stubborn stains. Remember that they should be used following the manufacturer's instructions.
Avoid abrasive cleaners. Porcelain stoneware is resistant to scratches, but using abrasive cleaners like scouring powders could potentially harm the surface over time. It's better to choose liquid cleaners or soft pastes, and always make sure to rinse thoroughly after cleaning to avoid any residue build-up.
Protecting porcelain tiles to prevent damages
The cleaning phase is crucial to keep your porcelain tiles shiny and aesthetically pleasing over the years. However, it is also good to add a few small tricks to prolong their life and prevent any damage.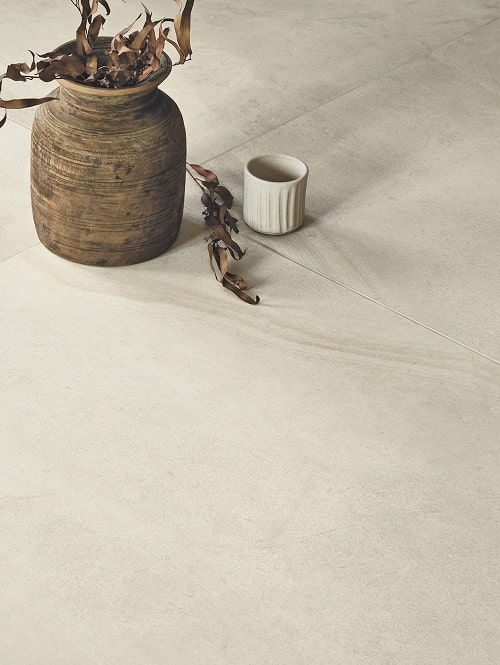 Use doormats at the entrancesto reduce the amount of dust, dirt and grit brought in on shoes, which can scratch the tiles in the long term.
Place protective pads under heavy furniture to avoid damaging your tiles.
Spills and drops should be immediately cleaned to prevent staining, especially on unglazed tiles.
CeramicheRefin, Italian porcelain tiles that suit every environment
CeramicheRefin, a renowned Italian company established in 1962, presents a wide range of porcelain stoneware collections, crafted to meet the design requirements of offices, shops, private homes and public spaces.
Drawing inspiration from various materials, such as stone, marble and wood, these exquisite products can rejuvenate any setting effortlessly.
The company's fundamental values are made in Italy and dedication to eco-sustainability. Made in Italy represents a production model that blends traditional craftsmanship, culture, and work ethics.
While the green philosophy is exemplified by the efforts to preserve and protect our precious environmental resources.
The Italian company provides an extensive array of porcelain tile solutions tailored for both residential and project-planning settings.
It offers tiles dedicated to the bathroom, which are extremely hygienic and resistant to moisture, as well as solutions for the kitchen and the living area of the home.
The catalogue also encompasses exquisite collections of refined porcelain stoneware. Sublime is inspired by the landscapes of Burgundy, in France. It evokes the allure of a rare type of local stone of limestone origin whose quarries have been exhausted.
The surface showcases a harmonious balance, adorned with subtle haloes and intricate details. But the compact and uniform background is furrowed with delicately contrasting veins.
As regards Feel, it is the ideal choice for those who appreciate original solutions.
It re-imagines the aesthetic value of a familiar material like concrete, conveying a look that is uniform and compact, almost solemn, then revealing a dynamic nature generated by seamlessly shifting earthy surfaces.
Minimalist and extremely contemporary at the same time, it is distinguished by a complex materiality achieved through extensive research applied to the surface.
Read More: