New businesses can be created by more innovation in technology. Technology comes in handy by making life easier for more companies.
They are in a mutually beneficial relationship which ensures that they will always be able to coexist. Since prehistoric times, the business has existed.
Although it may have started with barter trade, the industry has evolved to something much more complex and impossible without technology.
If information technology were taken from businesses, the world's largest industries would be in financial ruin.
Ultimate Use of IT Services in Business Management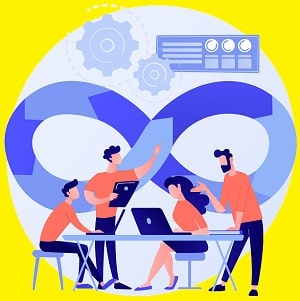 Technology is essential for most business operations and transactions in the 21st Century. IT and technology have quickly become some of the most important staples in any business endeavor.
This means you should make the most of IT Services in Business Management.
First and foremost, your concerns should center around ensuring that your interactions with technology and, more importantly, the internet is as safe as they can be.
Despite all the advantages that technology brings, it also opens the door to several potential security hazards for any business.
#1. The Importance of Awareness
One of the most important things you need to consider regarding your business is the importance of awareness online.
Understanding the apparent risks when entering any transaction online and taking steps to mitigate these risks is one of the best things you can do to keep yourself safe online.
#2. Training Employees
To this end, it is essential that you also provide ample training to your employees to help them avoid causing damage to your system.
By teaching employees to recognize risks, threats, and issues, such as insider threats or malware traps online.
#3. Reacting to Threats
By providing this training to your employees, you enable them to respond to these threats whenever they make themselves apparent.
This response could be the thing that saves your company from losing hours or even days of data in a malware attack or from falling victim to corporate espionage through insider threat efforts.
Employees & IT
In addition to training them to recognize the threats that are always present online, there are many ways that you can use IT to help boost your employees' abilities at work.
By helping your employees utilize technology to its fullest, you empower them to be the most effective worker they can be.
#1. Using IT to Motivate Employees
The first thing that you should teach your employee to do with technology is to motivate themselves.
Motivation is essential to the effectiveness of any worker, and by training your employees to use technology to motivate themselves better, you can help them to reach their fullest potential at work.
Programs that help manage time and set tasks for your employees are some of the best for motivation.
#2. Using IT to Connect Employees
Another handy application of technology that could improve your employees' work life is software allowing easier collaboration between employees.
These collaboration tools are convenient as they allow your workers to interact much more effectively than they could and much faster.
#3. Using IT to Assist Employees
Last but not least, IT could easily be leveraged in several ways to make your employees' work lives more manageable.
Whether they would have an easier time working from home or could use more management tools, there are plenty of potential IT solutions to almost any issue that could be plaguing an employee.
To ensure you are offering your employees the best possible digital aid, you might want to establish an open door policy or something that allows employees to request to use IT to make their life easier.
The Benefits of Digital Marketing
Another brilliant area of technology that you should be making use of is digital marketing.
An enormous portion of transactions made today includes at least some internet use, whether the buyer researched the product before buying or went through the entire purchase online.
This means that there is a massive market of potential customers that can be reached through the proper application of digital marketing.
#1. Building a Website
Creating your website is one of the most critical steps in any online marketing campaign.
This is the hub where your customers will go to find information on every service, product, and review you have in regard to your store, which means you want the website to be the best it can be.
After all, you only get one shot at a first impression, so you want to be sure your online presence is something you can be proud of.
#2. Inbound Marketing Strategy
With a brilliant website established online, you will want to start attracting as much traffic to your website as possible.
The best way to do this is by carefully applying inbound marketing techniques, which will redirect relevant traffic away from your competitors and towards your site.
Digital Services and Tools to Make Use of
Finally, a plethora of services and tools available online would be beneficial to apply throughout your business. To that end, some of the most exciting and valuable applications and tools available are detailed below.
#1. Web Development
To build a perfect website for your marketing endeavors, it is probably best to employ a seasoned professional's services.
There are many options for web development available online, with hugely varied opportunities for involvement.
You should find the best service for you and invest in getting a brilliant website sorted for your product.
#2. Data Protection
Another excellent service lies in the protection of your business' personal data.
Many sites collect and store your information, and unfortunately, if a malicious site gains hold of your information, it could be put to terrible use, which is why you want to protect your data online as much as possible.
Fortunately, tools such as VPNs and adblockers help to keep your data protected and block invasive popups that might attempt to fool you into activating malware on your device.
#3. Cloud-Based Storage & Backups
Finally, cloud-based storage and backup facilities are other brilliant services your business will probably want to capitalize on.
These allow your business to store any documents that they want online, and backup services, such as BackBlaze, will allow you to protect your entire system if you ever fall victim to sudden mechanical failure.
This means you won't suddenly lose enormous amounts of work if your system is destroyed.
It's simple. Information technology is the foundation of every business worldwide. The Fourth industrial revolution's driving force is IT solutions. There are many options for IT services.
This choice mainly depends on your industry, products and services, compliance requirements, security and budget, data storage, and business goals.
About Author: The Post about IT Services in Business is written by The Admin of IT Infosys UK.